CNS Mildly Fearmongers Over Door-To-Door Vaccines
Topic: CNSNews.com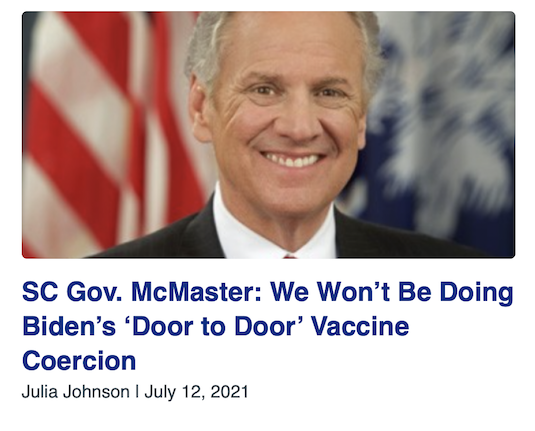 CNSNews.com's coverage of the Biden administration's efforts to offer COVID vaccines door-to-door didn't reach the fearmongering heights of WorldNetDaily, but it had its moments of unfairness and a twinge of fear. Susan Jones set the mildly ominous tone in a July 8 article:
Two days ago, President Joe Biden announced that his administration's vaccination push may come right to your front door:

"Now we need to go community by community, neighborhood by neighborhood, and oftimes door-to-door, literally knocking on doors to get help to the remaining people protected from the virus," the president said.

The door-to-door plan is getting pushback from some Americans, who see door-knocking as intrusive and none of the government's business. Oh yes it is our business, Health and Human Services Secretary Xavier Becerra told CNN on Thursday morning[.]
Later that day, Melanie Arter surprisingly gave White House press secretary Jen Psaki to shoot down right-wing fearmongering by pointing out that "the people who are going door-to-door to encourage people to get vaccinated are not federal government employees, but are community volunteers and clergy members" and that "the federal government does not have a database showing who has been vaccinated and who has not, and it has no plans to do so in the future." The next day, Arter gave even more uncritical space to Psaki, this time to shoot down fearmongering South Carolina Gov. Henry McMaster, who was ranting about "government vaccination teams showing up unannounced or unrequested at the door of 'targeted' homeowners or on their property":
When asked Friday to respond to McMaster and explain what is being done in the vaccination outreach, Psaki said, "Let me first say that the failure to provide accurate public health information, including the efficacy of vaccines and the accessibility of them to people across the country, including the people of South Carolina, is literally killing people, so maybe they should consider that.

[...]

>"It's something that's been going on since April, and it's something where we've seen an impact in states where there are lower vaccination rates, so it is something that we will continue to work with local groups to do, and it's a disservice to the country and to the people who may lose their lives, who may lose family members to provide inaccurate disinformation at a moment when we're still fighting a pandemic," Psaki added.
CNS then turned its attention to Arkansas Gov. Asa Hutchinson, whose state had seen low vaccination rates and an increasing COVID caseload. Two articles showed who was serious about health and who just wanted to fearmonger: Jones' article hyped Hutchinson blaming the government for "conservative" skepticism over vaccines, while Arter's article focused on Hutchinson claiming that the state already has "community organizations and churches going into people's homes to make sure that those who are 'bedridden' have access to the vaccine."
CNS, however, couldn't stay away from McMaster's fearmongering -- despite already having given Psaki a chance to respond to it -- so a July 12 article by Julia Johnson hyped it again. Johnson waited until the 10th paragraph of her article to mention Psaki's criticism, then followed it up with McMaster's partisan response.
This was followed up with a July 14 column by Tony Perkins, who was in fiull fearmongering mode:
Most people were shocked when the president wanted to go door-to-door with his vaccine campaign -- but that's only the half of it. According to a Pentagon spokesman, the White House is also planning to go barracks to barracks -- requiring the men and women of our voluntary military to involuntarily surrender their freedom and take an unproven shot some of them don't want.
Actually, miilitary members are already mandated to have numerous vaccines. And Perkins' insistence that the COVID vaccine is "unproven" clashes with a rant later in his column, in which he whined about "2020's Democrats, who spent months sowing doubts about the shots, just because they were created while Donald Trump was president. At one point, Biden openly questioned whether a vaccine approved by Trump's agencies would be safe. They are the ones who stoked fears and undermined the scientific progress. Now, suddenly, they want to flip a switch, undo that damage, and blame all of the hesitancy on conservatives. You can't have it both ways. It was their politicking that put people's lives at risk. And now, their heavy-handedness threatens to do the same -- to our freedoms."
Perkins can't have it both ways either. The vaccine can't have been perfectly fine when Trump was promising it as a re-election ploy but suddenly "unproven" when the political party in the White House switched.
Posted by Terry K. at 1:02 AM EDT
Updated: Thursday, August 19, 2021 1:29 AM EDT