MRC Hurls Hate At Another Interview of Psaki
Topic: Media Research Center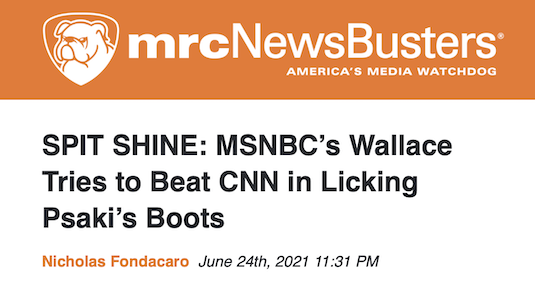 Part of the Media Research Center's unhinged hatred of White House press secretary Jen Psaki is that any interviewer who won't trash her the MRC demands must also be trashed. We saw this with CNN's Brian Stelter, and Nicholas Fondacaro ramped up the childish insults and condescension in a June 24 post on another Psaki interview under the deliberately hateful headline "SPIT SHINE: MSNBC's Wallace Tries to Beat CNN in Licking Psaki's Boots":
MSNBC Deadline: White House host Nicolle Wallace apparently saw Brian Stelter's bootlicking interview with White House Press Secretary Jen Psaki and thought 'challenge accepted.'

And during a Thursday interview with Psaki, Wallace rhetorically told Stelter to hold her beer as she gushed about how the mostly liberal press pool gave her "high marks," including "some of the President's detachers" who give her "grudging respect."

Wallace began the doting interview by opining about how she's spoken to "folks on the frontline of trying to protect not just voting rights but avoid voter nullification which a lot of people feel is the most ominous and haunting parts of these voter suppression bills."

[...]

The grossest praise for Psaki came when Wallace tried to relate to her. "Jen, I've walked in similar shoes to the ones you walk in together probably 23 and half hours a day. I'm guessing. How do you feel like it's going," she wondered, speaking with the cadence of a ditzy high school girl.

Wallace seemed to up the ante from Stelter's request to have Psaki knock around the press a bit by just telling the Press Secretary how great she was, and suggested even the opposition bowed to her grace:

[...]

At different points in the interview, Wallace expanded her bootlicking to President Biden. "He is very popular not just in the Democratic Party but, I know he and you all point out, with Republicans in the country who supported the COVID relief package overwhelmingly, whose support likely contributed to Republicans coming to the table on infrastructure," she gushed.

Adding: Would he play a similar role in bringing Republicans to the White House to work on a bipartisan compromise on voting rights?"
This isn't "media research" -- it's partisan bile, pure and simple. It seems as if there is a contest inside MRC headquarters regarding who can hurl the most immature insults at its political enemies and the non-right-wing media. It's unprofessional and embarasssing, and if Fondacaro was capable of the emotion, he should be ashamed.
The sin of not trashing Psaki extended to a July 1 post by Geoffrey Dickens complaining that "lefty journos" committed the offense of having "sucked up to White House Press Secretary Jen Psaki with the likes of CNN's Brian Stelter asking her 'what do we [journalists] get wrong?' and MSNBC's Nicolle Wallace gushing, 'You get such high marks from the vast majority of the people in the [press] room.'"
If the MRC had ever complained about suck-up interviews at Fox News to the likes of Kayleigh McEnany, it might have a point.
Posted by Terry K. at 8:15 PM EDT
Updated: Tuesday, August 17, 2021 10:08 PM EDT