CNS Thinks Cuomo's Daughter's Sex Life Is Your Business
Topic: CNSNews.com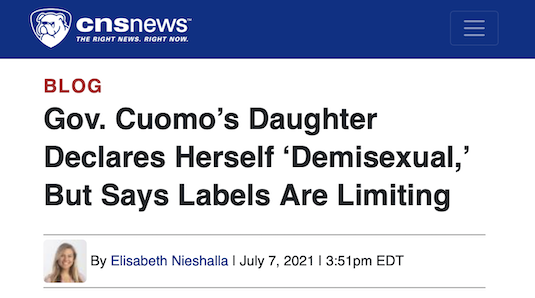 CNSNews.com is weirdly concerned with the sex lives of children of liberal politicians. Back in 2018, it made a big deal out of the daughter of Sen. Chuck Schumer -- whom CNS has repeatedly bashed for his support for LGBT issues -- "entering into a lesbian marriage," and later did an article on how Schumer was with "my daughter Alison and her new wife" when Justice Ruth Bader Ginsburg died.
In that tradition, we have a July 7 article by Elizabeth Nieshalla:
Twenty-three-year-old Michaela Kennedy Cuomo, daughter of Kerry Kennedy and Gov. Andrew Cuomo (divorced in 2005), has labeled herself as "demisexual" but has also said that "trying to label ourselves only limits us."

In an Instagram Live conversation with author and speaker Donato Tramuto, Michaela said,"When I was in elementary school, I feared that I was lesbian. When I was in middle school, I came out to my family and close friends as bisexual. When I was in high school, I discovered pansexuality and thought, 'That's the flag for me.'"

She added, "I've recently learned more about demisexuality and have believed that that identity resonates with me most."

The term "demisexual," according to the PFLAG National Glossary of Terms, is: "Used to describe an individual who experiences sexual attraction only after forming an emotional connection."
Um, so? What business is it of CNS to do a story on this person's sex life? It has nothing to do with her father, who has his own issues. Being the daughter of a politician doesn't make her newsworthy in and of itself. There's no news value in Cuomo's sex life. There's no reason for this article to exist other than to feed into a right-wing anti-LGBT agenda that CNS is obligated to push as an ideological entity.
We would ask if CNS should bea better "news" organization than that, but we know it's not.
Posted by Terry K. at 6:12 PM EDT