MRC Mocks Toobin's Return, Silent On Fox News Host Accused Of Sleazy Sexual Behavior
Topic: Media Research Center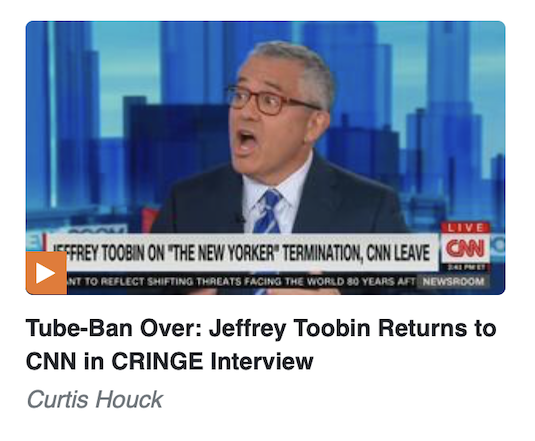 When legal analyst Jeffrey Toobin returned to CNN following a leave of absence after he got caught masturbating on a Zoom call with colleagues at the New Yorker, the Media Research Center was all too eager to make hay from it. Curtis Houck declared in a June 10 post that didn't skimp on details (which we don't feel the need to repeat):
CNN showed its aversion to decency, ethics, and journalistic principles on Thursday afternoon as the Jeffrey Zucker-led network officially welcome back chief legal analyst Jeffrey Toobin for an absolutely cringeworthy interview seven months after he was caught masturbating on a Zoom call with fellow journalists.

[...]

And with a "I'm trying" from Toobin, Camerota's nearly 14-minute-long interview from hell was over.

And in the process, CNN made clear that while Fox News is the news outlet without shame, the WarnerMedia outfit has shown the world that, if you're the right person who holds left-wing political views, all can be forgiven, no matter the sin.
Houck also rehashed Toobin's return in the NewsBusters podcast the next day, including regurgitating his lament of CNN portraying Fox News as"is the news outlet without shame."
Funny you should mention Fox News and its lack of shame, Curt. We've documented how the MRC largely censored the story of accusations of sexual harassment against Fox News hosts and executives; indeed, so lacking in decency was the MRC that it not only gave Bill O'Reilly space to respond to harassment charges against him, Tim Graham appeared on the final episode of what was Bill O'Reilly's Fox News show.
More importantly, the MRC completely censored all mention of charges of disturbing behavior against Fox Newshost Charles Payne; former right-wing talking head Scottie Nell Hughes accused him of coercing her into a sexual relationship with him. It was serious enough that Fox News suspended Payne for a couple months, but he was allowed to return. As we also noted, not only did the MRC omit mention of his suspension and return, it was so completely lacking in decency that the MRC's Joseph Vazquez did a suck-up softball interview with Payne that made no mention of the sexual allegations against him, and Vazquez declared afterward that it was "an honor and privilege of mine" to do the interview.
While the MRC is nonplussed by Payne's disturbing personal life, it feels free to mock Toobin for his:
Meanwhile, Payne's sleazy sexual behavior isn't keeping the MRC from treating him as an honored elder statesman.
Posted by Terry K. at 9:16 PM EDT