MRC Psaki-Bashing, Doocy-Fluffing Watch, Police Funding Edition
Topic: Media Research Center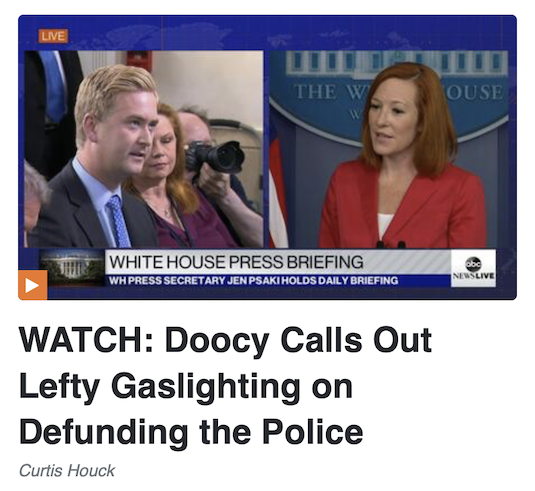 As we've noted, the guiding rules for Curtis Houck's write-ups are 1) Jen Psaki must always be attacked, smeared and denigrated, and 2) Peter Doocy and other right-wing reporters must always be praised. Which is why Houck started his write-up for the June 28 briefing this way:
Monday's White House press briefing quickly became an epic messaging embarrassment for the the Biden administration as, under questioning from the Fox News Channel's Peter Doocy, Press Secretary Jen Psaki argued that Republicans (and not Democrats) have defunded the police and gave the White House's blessing to America-hating Olympian Gwen Barry.

After a short exchange on President Biden's muddled stance on the bipartisan infrastructure agreement, Doocy started with the Defund the Police movement, calling out comments from senior adviser Cedric Richmond that said Republicans had defunded the police by not supporting the stimulus boondoggle that masqueraded as coronavirus relief.

"But how is it that that is an argument to be made when the President never mentioned needing money for police to stop a crime wave when he was selling the American Rescue Plan," wondered Doocy.

Incredibly, Psaki doubled down on the spin, saying that Republicans do indeed not support keeping police "on the beat in communities across the country" because they refused to vote for "the American Rescue Plan" and its "funding" to "help ensure local cops" kept their jobs.

Doocy called out the fact that this wasn't the supposed focus of the package and has nothing to do with supporting police amidst a crime wave, but Psaki refused to rejoin reality[.]
Yes, the guy who is simply spouting right-wing talking points by claiming without evidence that coronavirus stimulus spending is a "boondoggle" thinks others should "rejoin reality." Houck also offered no evidence to support his claim that Barry hates America (and, no, her little protest is not evidence of that). HOuck also complained that "numerous liberal journalists went full Chicken Little over the Delta variant of the coronavirus" -- a partisan assertion that looks pretty dumb now given that the highly contagious variant is currently the dominant coronavirus variant by far in the U.S. and responsible for a large uptick in Americans (most of them unvaccinated) being hospitalized for COVID and dying from it (while the MRC tries to distract from the fact that the biggest group of vaccine-hesitant Americans are white conservatives and that right-wing media encourages that vaccine hesitancy).
As Mediaite's Tommy Christopher pointed out (but Houck won't), Doocy "went full-on defense attorney for congressional Republicans" during this exchange -- not exactly the kind of fair and balanced journalist the MRC claims to prefer.
Houck continued to fixate over police funding -- because it's now a right-wing talking point -- in the writeup for the June 30 briefing:
Two days after he faced shameless gaslighting from White House Press Secretary Jen Psaki over which party supported defunding the police, Fox News's Peter Doocy was back at it during Wednesday's briefing and pressed Psaki on her false claims that the GOP (and not Democrats) have defunded the police.

Doocy began with this carefully crafted question:>"[Y]ou mentioned at the last briefing that you think Republicans wanted to defund the police because they did not support the American Rescue Plan. Which Republican ever said they did not like the American Rescue Plan because they wanted to defund the police?"

Psaki refused to change her tune and instead reiterated her reliance on blind partisanship and low-information voters by arguing that Democrats oppose defunding the police because President Biden "ran and won the most votes of any candidate in history on a plan of booster for law enforcement after Republicans spent decades trying to cut the cops program."

She added that there shouldn't be any further debate because it's "a simple statement of fact" that the GOP has "also stood in the way of crucial funding needing to prevent the laying off of police officers as crime increased."

Earth to Jen: What do cities such as Austin, Baltimore, Denver, Los Angeles, Milwaukee, Minneapolis, New York City, Oakland, and Seattle all have in common? Not only are they run by Democrats, but those Democrats have voted to defund their police departments.
Actually, all of those police departments are still in existence, so they weren't "defunded" to the point of elimination -- they merely saw some relatively minor budget cuts. Houck knows that, of course, but his mission is to forward right-wing talking points, not tell the full truth.
Houck clung to that narrative for his July 2 writeup, and he found something else to manufacture outrage about with alleged name-calling toward Psaki and man-crushing on Doocy:
With one last White House press briefing before the Fourth of July weekend, Fox's Peter Doocy came prepared Friday afternoon with questions for Press Secretary Jen Psaki about her gaslighting on defunding the police, negative stories about Vice President Kamala Harris's staff, and a widely-panned White House tweet urging Americans to celebrate the 16-cent decrease in the cost of food to throw a backyard get-together.

Starting with the hot dogs tweet, Doocy closed out his turn with a question about the tone-deaf tweet that ignored the fact that Americans are paying more for gas (which Psaki would acknowledge a few minutes later):"[T]he official White House account tweeted yesterday: 'The cost of 1/4 of July cookout was down 16 cents from last year.' 16 cents?"

Psaki didn't hesitate in showing her Acela Corridor elitism, bragging that "there has been a reduction in some of the costs of key components of the Fourth of July — a Fourth of July barbecue. That was what the tweet was noting."

Having totally missed the point, a usually calm Doocy came off as a tad exasperated while Psaki dug in by mocking blowback to the tweet has having emanated form those that dislike hot dogs [.]

[...]

If this were a Trump administration briefing, one could safely bet that CNN and MSNBC would be doing a few segments fact-checking Psaki and decrying the administration's lies.

But since their friends are in power, they moved right along.
If this were a Trump administration briefing, Houck would be defending the briefer as strong, unassailable and always right, while denigrating the reporter as biased and always wrong -- you know, like he did when his beloved Kayleigh McEnany was at the podium.
Posted by Terry K. at 3:52 PM EDT
Updated: Friday, July 23, 2021 4:48 PM EDT