CNS Parrots MRC Parent In Attacking Teen Who Gave Speech On Abortion
Topic: CNSNews.com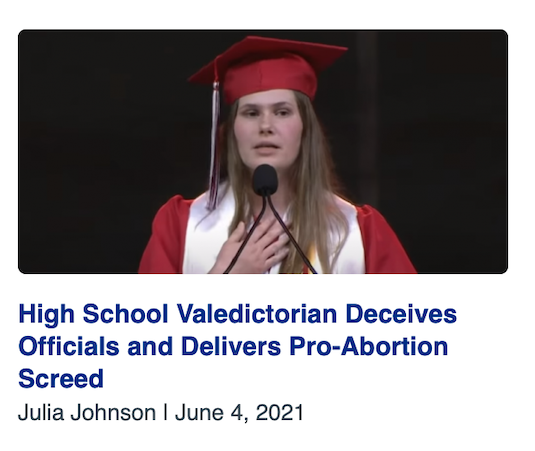 The Media Research Center's "news" division, CNSNews.com, is even more blatantly abandoning any pretense that it's a legitimate journalism orgniazation and is simply the MRC in inverted-pyramid format -- what with the corporate whoring and parroting of what the MRC writes about -- and the latter has happened again.
We've noted how the MRC went on the attack against a teenager who gave a graduation speech about a new, onerous anti-abortion law in Texas. CNS intern Julia Johnson did the same in a June 4 article:
Paxton Smith, valedictorian of her class at Lake Highlands High School in Dallas, Texas, delivered a pro-abortion speech in lieu of her previously approved remarks on Sunday, an unexpected speech that went viral on social media.

"I am terrified that if my contraceptives fail, I am terrified that if I'm raped, then my hopes and aspirations and dreams and efforts for my future will no longer matter," Smith said.

[...]

D Magazine reported that Smith was originally planning on speaking about media and perception but felt compelled to speak about the recently passed Texas "heartbeat bill."

Her school had approved her speech on media and had no idea what they were in for next. Smith prepared the second speech ahead of time, even sharing it with her parents, according to D Magazine.

"I hope you can feel how gut-wrenching it is, how dehumanizing it is, to have the autonomy over your own body taken from you," Smith said.

Before the speech, students were warned that if they deviated from the pre-approved remarks, their microphones would be cut off, Advocate Lake Highlandsmreported.

But that didn't happen to Paxton Smith. It is unclear why this particular speech was allowed, or whether a conservative version would've received the same discretion.
Johnson used biased language throughout her article, calling Smith's speech "pro-abortion" while describing the anti-abortion bills as "pro-life." She showed her bias again by complaining that "Smith has received an onslaught of fawning reactions from the leftist media, including glowing coverage from Vice, NowThis, and Teen Vogue. The teenager told Advocate Lake Highlands that she was 'overwhelmed' by the positive response." Johnson offered no evidence that any of those publications are "leftist."
The original headline on Johnson's article -- "High School Valedictorian Deceives Officials and Delivers Pro-Abortion Screed" -- was just as biased. The headline was later changed without explanation to the more bland (yet still biased) "High School Valedictorian Delivers Pro-Abortion Speech."
Posted by Terry K. at 2:25 PM EDT