CNS Echoes MRC Parent With LGBT Freakouts Over Plastic Bricks, Cereal
Topic: CNSNews.com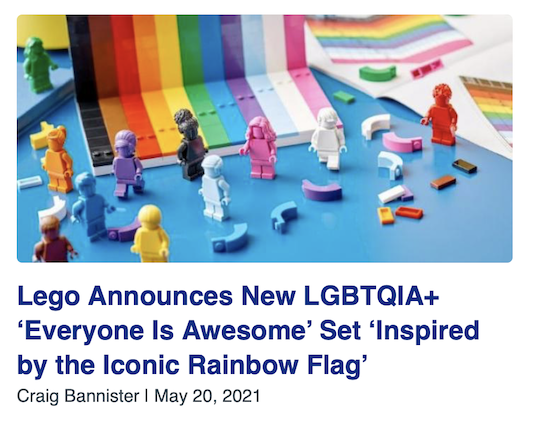 The Media Research Center's "news" division, CNSNews.com, parroted its parent in having an anti-LGBT freakout over plastic bricks and cereal. Craig Bannister complained in a May 20 article:
On Thursday, the LEGO Group announced that its new LGBTQIA+ set "goes on sale on June 1, to mark the start of Pride Month."

"Inspired by the iconic rainbow flag," the 346-piece set "features 11 monochrome minifigures each with its own individual hairstyle and rainbow colour" LEGO says in an announcement touting the new product.

"I wanted to create a model that symbolises inclusivity and celebrates everyone, no matter how they identify or who they love," set designer and Vice President of Design Matthew Ashton said, adding that the set is also a celebration of the LGBTQIA+ community within the LEGO Group and amongst the brand's adult fans.

Each of the LEGO characters was designed to be gender-neutral, so it's up to the builder to assign the gender of every character, Ashton says in LEGO's promo video:
This was followed by a June 1 commentary by Monica Cole of One Million Moms, who brought the homophobic hate (and shilled for her petition):
Lego is confusing our innocent children by attempting to normalize this lifestyle choice, which is not only irresponsible but also dangerous to the well-being of our children. Toy manufacturers need to remain neutral and should avoid aiming to please a small percentage of customers while pushing away conservative customers.

It is crystal clear that Lego is attempting to desensitize our youth, so my group, One Million Moms, believes it's urgent to warn parents of the company's agenda.

[...]

We must remain diligent and stand up for biblical values and truth. Scripture says multiple times that homosexuality is wrong, and God will not tolerate this sinful nature.

Sign our petition urging Lego to stop the release of its "Everyone is Awesome" rainbow LGBTQ building set immediately.
Not only is One Million Moms virulently homophobic, they're bad at their claimed job.
Meanwhile, Susan Jones was CNS' designated lasher-outer at cereal in a May 27 article:
Would you like a little milk with your cereal? Or do you prefer a heaping helping of liberal activism?

Now available on grocer shelves -- Kellogg's limited edition "Together With Pride" cereal, a collaboration between the cereal-maker and GLAAD, an LGBTQ+ advocacy group.

"Our delicious new recipe features berry-flavored, rainbow hearts dusted with edible glitter," said Kellogg General Manager Doug VanDeVelde. "We can't wait for fans to try our latest limited run."

[...]

The outreach effort includes "correct" pronouns:

"Kellogg is not only building on an ongoing commitment to support the LGBTQ+ community, but initiatives that spotlight the importance of using correct pronouns to create safe and welcoming spaces for trans and nonbinary people," Ellis said.

"Together With Pride" cereal follows Kellogg's earlier collaboration with GLAAD to produce "All Together" cereal, which was available only online for a limited time.
Jones also added a list of other products Kellogg's makes, presumably as a way to help would-be boycotting homophobes like One Million Moms.
Posted by Terry K. at 12:43 AM EDT