Newsmax's Kerik Pushes Dubious Partisan Election 'Audits'
Topic: Newsmax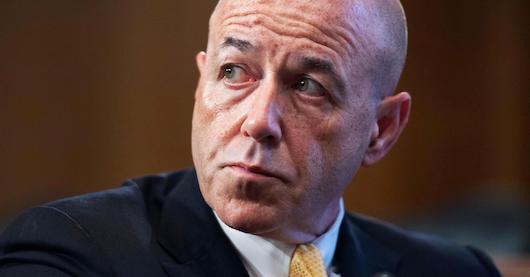 Like fellow Newsmax columnist Conrad Black, Bernard Kerik was graced with a pardon from President Trump for the felonies that sent him to prison for years. And like Black, Kerik is sucking up to Trump in an apparent effort to continue to justify that pardon.
In a June 7 appearance on Newsmax TV, Kerik defended the highly partisan "audits" of election ballots in Arizona and attempts to do them in other states:
"I'm telling you: The president is right," Kerik told Monday's "John Bachman Now" about former President Donald Trump's speech Saturday which levied claims of criminal voter fraud to be revealed in the coming months.

"Those investigations that are continuing to go on today are going to reveal overwhelming evidence of fraud, criminality, and other things that resulted in Joe Biden being put in the White House.

"It just takes time. This stuff doesn't happen overnight.

The media and Democrat narrative that those seeking to investigate fraud and audit elections are merely doing so to "overthrow" or "overturn" Biden's election is a smokescreen for the important work of protecting the integrity of honest elections, Kerik added to host John Bachman.

"Anybody that pushes against the president or pushes back against the president, or me, or [Rudy] Giuliani, or anybody else who was there, they basically say, 'you're trying to overthrow the election, overturn the election,'" Kerik said. "No, no, that's not what we're trying to do. What we're trying to do is get to the bottom of the election. We're trying to identify what really happened.

"And what really happened is not what was suppose to happen, and I have probably 2,000 or 3,000 sworn affidavits, sworn under the penalty of perjury – no different than walking into a federal grand jury – there's 2,000 to 3,000 sworn affidavits of people that witnessed criminal conduct in these voting polls in different states: Georgia, Arizona, Michigan, Pennsylvania, Nevada, and elsewhere."
Kerik then devoted his June 15 column to defending the Arizona audit by claiming how good its security supposedly is:
Democrats and the mainstream media have been aggressively denouncing the Maricopa County, Arizona election audit from the beginning.

At, first I didn't understand why.

I thought that it was because they were afraid of what the results would be, but I now believe it's something far worse.

The Democrats aren't "just" afraid of the outcome – but they're afraid that the audit results will be irrefutable and unimpeachable. They know that their efforts to discredit the audit process in Arizona will not stand up to scrutiny and here's why.

The Arizona audit is being run impeccably, utilizing security and surveillance procedures with a longstanding track record of effectiveness.

To say that I was impressed after viewing the audit process for myself would be a massive understatement. I've spent decades working in security and law enforcement at the highest levels, and this is exactly the level of conscientiousness and attention to detail that I would demand for a sensitive or high-profile investigation.

They're not trying to reinvent the wheel; they're using the same methods casinos have used for decades to catch cheaters.
Kerik is actually lying to you. Therehave been many security issues with the audit -- to the point that Maricopa County will replace all the county's voting machines at a cost of millions of dollars because the machines' chain of custody has been violated by the folks conducting the audit. The head of the company conducting the audit, Cyber Ninjas -- which has no experience working in the elections space -- has promoted pro-Trump conspiracy theories about the eleciton, and there's every reason to believe the audit is being conducted in a similarly biased manner.
Kerik also tried to discredit anyone who pointed out those security lapses:
After being briefed, visitors must forfeit cell phones, cameras, and any writing implements they might be carrying before they can be escorted to the audit floor. That's why the Democrats' claims of seeing auditors wielding blue and black pens are so implausible.
Actually, they're completely plausible. Observers found at least two instances of black pens on the conuting floor -- an issue because black or blue pens can be used to alter ballots. If Cyber Ninjas had experience working with elections, it would have known that.
Kerik continued his denial or reality:
If every state performed an audit like this one after every election, public faith in our democracy would be absolute and unshakable.

The audit process being used in Arizona has accuracy, integrity, and accountability, and there's no way to cheat because everything is captured on film.
What Kerik didn't tell you: The livestream video of the audit is controlled by right-wing outlet One America News -- where reporters are fund-raising for the audit, a clear conflict of interest. That's yet another reason not to trust the audit.
But Kerik continues to support the audit becuase he thinks it will generate the biased result he wants -- which, of course, is yet another reason not to trust it.
Posted by Terry K. at 6:40 PM EDT
Updated: Thursday, July 8, 2021 7:18 PM EDT