MRC's Graham Whitewashes G. Gordon Liddy's Horribleness Upon His Death
Topic: Media Research Center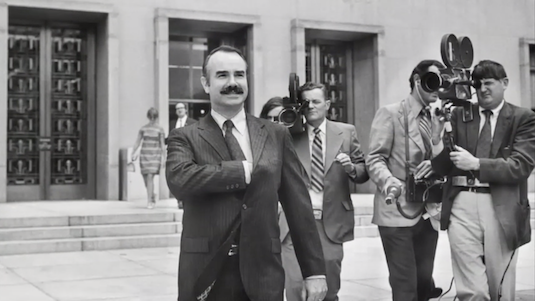 Rush Limbaugh wasn't the only right-wing radio host the Media Research Center was morning this year (while studiously ignoring what a terrible person and whining about anyone who pointed out that fact). Tim Graham gushed and lamented in an April 4 post:
G. Gordon Liddy became a beloved conservative talk radio host for 20 years after serving time in prison for organizing a break-in of Democrat headquarters at the Watergate in 1972. His show would air in the mornings here in Washington on WJFK, and he would entertain by interviewing conservatives (including us at the MRC) and reading news stories and opinion pieces from the Washington Times. I warmly remember how we talked for nearly an hour in 1996 about my book Pattern of Deception.

When he died on Tuesday, we could guess that Liddy's obituary headlines would be more negative than say, communist dictator Fidel Castro's in 2016. We were not wrong.
After that "warm" remembrance, it was off to the whataboutism races, comparing Liddy to one of the few people who could be considered a worse human being, starting with a complaint that one headline called Liddy an "unrepentant burglar":
"Unrepentant burglar." Now does anyone think a liberal newspaper will lead its Bill Clinton obituary with "Unrepentant sexual harasser"? Or will those words lead the Al Franken obituary headline? Franken had a talk radio show for a while. No chance.

On April 1, New York Times headline in the paper was "G. Gordon Liddy, Watergate Scandal's Remorseless Ringleader, Dies at 90."

In 2016, the New York Times headline read, "A Revolutionary Who Defied the U.S. and Held Cuba In His Thrall." Anthony DePalma of the Times began by calling Castro a "fiery apostle of revolution" who "defied the United States for nearly half a century."

The Washington Post headline for Castro was slightly more balanced: "Revolutionary remade Cuba: Dictator who defied U.S. was loathed, beloved." But Kevin Sullivan and J.Y. Smith oozed that Castro was "a romantic figure in olive-drab fatigues and combat boots, chomping monstrous cigars through a bushy black beard," who "became a spiritual beacon for the world's political far left."

The Post headline for Liddy was more restrained: "G. Gordon Liddy, undercover operative convicted in Watergate scandal, dies at 90." But a photo montage was headlined "G. Gordon Liddy, infamous operative in the Watergate break-in, dies at 90."

On the front of Friday's Style section, Post feature writer Dan Zak called Liddy a "super-klutz." He cracked "As with so many self-professed paragons of strategy and masculinity, the man who advertised himself routinely as 'virile, vigorous and potent' was most famous for underperforming. He was brilliant at scheming but lousy at pulling off schemes... Liddy may have died Tuesday at 90, but he lives on in any number of characters afflicting our politics with their theatrical machismo or numbskulled shenanigans."

This is comical, since Zak is best-known for exhaustively glorifying the "numbskulled shenanigans" of three radical pacifists who theatrically broke into the Oak Ridge nuclear lab and threw blood at the walls.
One could say that Graham oozed over Liddy.It should be noted that at no point does Graham dispute the accuracy of any of those less-than-flattering characterizations of Liddy, including that of "unrepentant burgler" -- he's simply complaining they were said at all. Graham also forgets that being an unrepentant burglar is pretty much the defining image of Liddy that most Americans have -- at least, the ones who aren't still sucking up to him because a radio hit with him 25 years ago went well.
And this isn't even the frist time this year the MRC tried to whitewash Liddy. In anuary, Scott Whitlock lashed out at MSNBC because a promo used images of Liddy and Oliver North alongside pictures of Nazis at the Nuremburg Trials in criticizing people who were "just following orders": "What, exactly, to Liddy and North have to do with the actual Nazis? That these two were following orders connected to their respective scandals makes them like... Nuremberg trial Nazis? And what does any of this have to do with 2021 Republicans?" Whitlock forgot that is a Liddy-Hitler connection beyond this: Liddy said in a 2004 interview that listening to Hitler on the radio "made me feel a strength inside I had never known before," adding that "Hitler's sheer animal confidence and power of will [entranced me]. He sent an electric current through my body." Liddy also chose his wife on eugenic grounds, "a tall, fair, powerfully built Teuton." And let's not forget that Liddy also gave his listeners advice on how to shoot federal agents.
The MRC tried to whitewash that too, of course. A 2013 post complaining that Robert Kennedy Jr. brought up Liddy's admiration of Hitler played the whataboutism card by claiming that John F. Kennedy "a soft spot for Der Fuhrer" according to his diaries. But that was deliberate cherry-picking; a full reading shows that nowhere in his diaries did JFK express sympathy for the Nazi cause.
The MRC has to group Liddy with the likes of Castro and Hitler to make him look not as terrible by comparison. Graham's fuzzy memories about how he "warmly remembers" Liddy as a "beloved conservative talk radio host" rings not only hollow but tone-deaf and desperate as well.
Posted by Terry K. at 9:50 AM EDT
Updated: Sunday, July 4, 2021 12:36 PM EDT