CNS Omits Facts About GOP Congressmen's Letter On Oil, Gas Taxes
Topic: CNSNews.com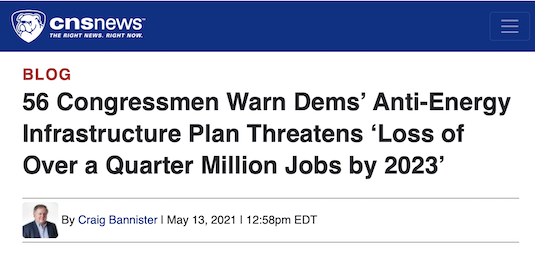 Craig Bannister intoned in a May 13 CNSNews.com article:
On Thursday, House Republican Whip Steve Scalise (R-La.), Rep. Devin Nunes (R-Calif.) and 54 of their colleagues sent a letter to House Speaker Nancy Pelosi (D-Calif.) and Majority Leader Steny Hoyer (D-Md.) urging them to abandon plans to use their so-called "infrastructure" bill to devastate the U.S. oil and gas industry and the jobs it supports.

The letter was shared on social media Thursday by Rep. Jodey Arrington (R-Texas), who led the effort to reach out to the Democrat [sic] House leaders.
Bannister failed to report that, as Greenpeace noted, all but three of the letter's56 signatories have received political donations from the oil and gas industry, a total of more than $14 million over their collective political careers -- likely the main motivation for the letter.
Bannister went on to dutifully write:
"Every business since the inception of the tax code has used cost recovery provisions" to write-off costs, the letter says, warning of Democrats' plan to single out and eliminate tax breaks for the oil and gas industry.

Repealing write-offs of Intangible Drilling Costs (IDCs) "could result in the loss of over a quarter million jobs by 2023" and "repeal of Percentage Depletion will eliminate 84,000 mainly small business jobs per year and harm royalty owners as well," the letter cautions.
Bannister uncritically uncritically repeated the letter's portrayal of a tax write-off as a "tax increase." As the Natural Resources Defense Council reported, the intangible drilling cost write-off is more than a century old and could certainly stand to be reviewed, and ending the write-off would bring in $9 billion in tax revenue over 10 years. As another analyst pointed out, technological advances in the oil drilling industry mean that dry wells, the main impetus behind the writeoff, are less of an issue these days. The letter -- and, thus Bannister -- never explained how the intangible drilling cost write-off was exactly the same as other business expense write-offs.
Uncritically repeating one side of a story while hiding the apparent motivations driving that argument is not reporting -- it's stenography. Fortunately for Bannister, stenography is what CNS pays him to do.
Posted by Terry K. at 2:20 PM EDT