MRC's Lame Gotcha: WaPo Runs Horoscopes!
Topic: Media Research Center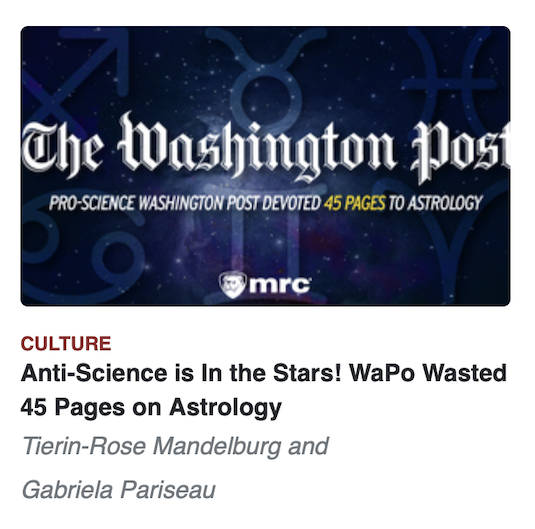 It took both Tierin-Rose Mandelburg and Gabriela Pariseau to crank out this April 22 Media Research Center attempt at a gotcha:
The Washington Post isn't pro-science after all. The paper devoted the equivalent of at least 45 full newspaper pages in the past year to … astrology.

The newspaper staff apparently took the '60s hit to heart: "Sign, sign, Everywhere a sign." The Post's (Sagitarius) pages were a Cancer, and a Gemini and a Virgo and more.

The paper's daily horoscopes from February 1, 2020 to January 31, 2021, wasted roughly 382 news columns, or about the page count of an entire daily newspaper with "life advice" based on a reader's birthdate.

Astrology is the furthest thing from scientific fact, but that didn't stop The Post (Sagitarius) from describing Republicans as "anti-science," "science denialists" and having "contempt for science" more than 70 times in those months.

[...]

Horoscopes and astrology are an especially wacko brand of pseudoscience that ascribe spiritual powers to stars and planets. Astrologists claim that fiery gasses and space rocks control every human success, feeling, and romantic relationship.

Astrology is so scientific that scientists have repeatedly rejected its findings as junk. Britannica even admits astrology is "widely considered today to be diametrically opposed to the findings and theories of modern Western science."

WaPo staffers and far lefties love to claim they "follow the science." But ironically, as it turns out, they follow their horoscope instead.

[...]

Most (level headed) readers probably don't put all their faith in The Washington Post's daily horoscope reading, but that does not absolve the newspaper of its blatant hypocrisy. The Post indulges readers' curiosity for pseudoscientific astro-crap while refusing to even acknowledge honest scientific questions from conservatives.

Instead, The Post (Sagitarius) had the audacity to call conservatives the anti-sciencers while devoting a WHOLE newspaper's worth of space to astrological garbage.
Note that Mandelburg and Pariseau can't be bothered to correctly spell "Sagittarius," which tells you the level of seriousness and rigor that was put into this piece. Another sign: At no point do they prove that any employee of the Post follows the horoscopes the newspaper publishes, despite claiming that they "follow their horoscope." The duo also offer no evidence that horoscopes are for "far lefties," as they suggest. Many newspapers run horoscopes because they're popular, with readers regardless of their political persuasion.
Indeed, one of the biggest right-wing newspapers in the U.S., the New York Post, also runs horoscopes. But Mandelburg and Pariseau will never write an MRC gotcha piece saying the New York Post's promotion of, say, the Hunter Biden laptop story is discredited because the paper also publishes horoscopes.
This is just another reminder that the MRC's mission is partisan attacks, not "media research."
Posted by Terry K. at 9:43 PM EDT