MRC Tries To Justify GOP Culture-War Issues
Topic: Media Research Center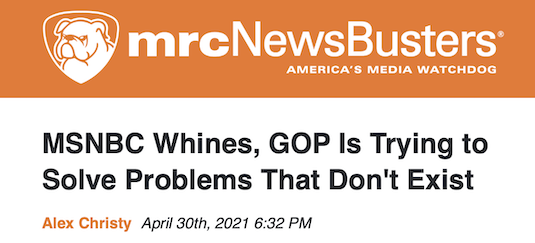 The Media Research Center's Alex Christy began an April 30 post by complaining:
MSNBC and NBC journalists are gaslighting viewers into believing that toxic critical race theory, the ahistorical 1619 Project and other culture war issues are pretend problems in Republicans' imagination.

MSNBC's MTP Daily host Chuck Todd and political editor Carrie Dann spent Friday's show venting about Republican legislatures passing legislation against everything from election reform to critical race theory to The 1619 Project, to preserving the competitive integrity of women's sports. The liberal pair mocked these measures as dealing with problems that don't exist.
Christy went on to complain that West Virginia Gov. Jim Justice got caught in an interview with MSNBC's Stephanie Ruhle being unable to provide an example "of a West Virginian transgender athlete attempting to get an unfair competitive advantage" that would have justified his signing of a state law that would ban transgender girls from taking part in sports. No evidence, no problem, Christy says: "Just because Justice could not provide an example from his state, doesn't mean the issue is made up. Athletes who have had these advantages have recently appeared on MSNBC.
Christy followed up by bashing Todd and his guest for pointing out the 1619 Project and critical race theory are issues only in the eyes of right-wingers trying to turn them into issues:
The problem with CRT is that is both a fallacious and cynical theory that leads to people of different races coming to view each other as their enemy, while the problem with The 1619 Project is that it has been debunked as politicized history by actual scholars.

This is basic stuff that MSNBC could learn if it were to venture out of its liberal bubble from time to time.
Christy provided no links to support either of those claims. Regarding the 1619 project, there was one overstated claim that was walked back a bit and which did not discredit the overall project (as if the way history is taught now has not been politicized).And critical race theory is not a term that teachers use, which makes it unclear what, exactly Christy is talking about, let alone objecting to.
But facts are not important to Christy -- advancing the right-wing narrative is. And at no point did Christy explain why any of these things are actual problems and not merely GOP culture-war hot buttons.
Posted by Terry K. at 10:16 PM EDT