MRC Psaki-Bashing, Doocy-Fluffing Watch, Doocy-Philia Edition
Topic: Media Research Center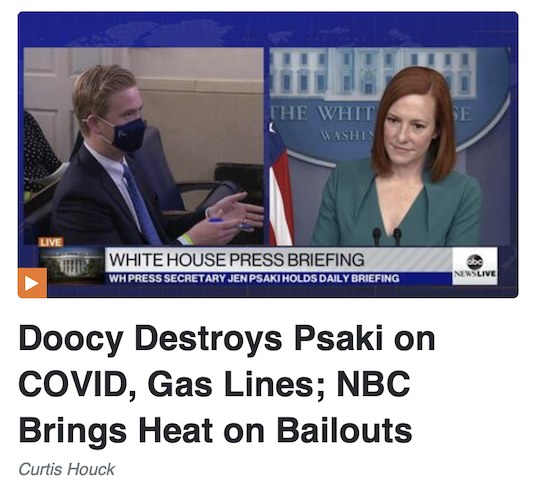 Media Research Center writer Curtis Houck's man-crush on Fox News' Peter Doocy for asking hostile questions of White House press secretary Jen Psaki is getting downright embarassing. In a May 11 post headlined "Doocy Destroys Psaki Over COVID, Gas Shortages," Houck gushed:
Tuesday brought us a packed White House press briefing amid an East Coast gas shortage, fears of inflation, and ongoing crises on the border and with the coronavirus. So, it was only natural that Fox News's Peter Doocy brought the heat with questions about the Biden administration denying there was a border crisis, energy regulations, and peddling fear about outdoor transmission.

[...]

Doocy took his shot on immigration with DHS Secretary Alejandro Mayorkas leading off the briefing (alongside Granholm to talk about the pipeline), citing Fox News reporting along the border that "show[ed] humongous groups of dozens or hundreds of migrants walking right into the country" to wonder how that squared with his insistence that "the border is closed."

Mayorkas didn't flinch and insisted he "meant...precisely that" when he said "the border is closed."

[...]

Doocy pivoted to the pandemic and concern the Biden CDC's guidance has made it "harder...to convince people to get vaccines and to wear masks when they created this impression that up to 10 percent COVID transmission occurs outdoors, even though there's this New York Times report now where they say there's not a single documented COVID — COVID infection anywhere in the world from casual outdoor interactions."

Psaki again tried to wiggle out of it, so Doocy was more direct in his follow-up in floating the notion that the Biden administration hasn't been following the "science"[.]
Houck was at it again the next day:
Fox News White House correspondent Peter Doocy went into the weekend on a bang, hammering the Biden administration during Friday's briefing about the sudden change no longer requiring vaccinated people to mask or socially distance indoors and outdoors. Specifically, he wondered what the "big breakthrough" was since President Biden had said in March that such a change was "Neanderthal thinking."

Doocy first told Press Secretary Jen Psaki there's been "a lot of questions about the timing of the CDC's announcement yesterday," so he first wanted to know whether anyone on Team Biden had the update done out of "political reasons."

[...]

Doocy then read back the CDC's own statistics showing "only 45.6 percent of U.S. adults have been fully vaccinated as of yesterday" with "[o]nly 58.9 percent of the adult population had — has at least one dose" and asked what happened to the administration's push to have all American adults vaccinated first.

To underline this, Doocy cited Biden's own words that many in the media were happy to trumpet: "[S]o what happened to President Biden saying in March that he thought lifting mask mandates before every adult American goes and gets a shot is Neanderthal thinking?"

This went on for a few minutes with Psaki going on and on about the Biden executive branch leading with scientists as their "North Star" (and not Biden, as some have claimed) and letting them make decisions.

It seems that Doocy, not Psaki, was the one "going on and on" in pushing his right-wing talking points, but Houck will never admit that.
Houck had to wait a few more days for his next Doocy-fluffing session on May 20:
Thursday featured the first White House press briefing in nearly a week (due to President Joe Biden's travel schedule), and so Fox's Peter Doocy made the most of it by grilling Press Secretary Jen Psaki over the origins of the coronavirus, the Biden administration allowing Russia's Nord Stream 2 pipeline to go through, and Middle East violence.

The FNC reporter wasn't alone in asking the tough questions as CNN's Kaitlan Collins joined in on Nord Stream 2, RCP's Philip Wegmann asking about s-corporations, and the Daily Caller's Shelby Talcott citing anti-Israel rhetoric from some of Biden's fellow Democrats.

Doocy led off with COVID by wondering whether the administration has a response to claims from House Republicans that they have "significant circumstantial evidence" that the virus came from a lab. He also wondered if the White House would support increased pressure on the Chinese to allow for further investigations.

[...]

Doocy then switched to the Russian pipeline to Germany, telling her "there's a lot of talk about Nord Stream and Keystone, and I'm just trying to help our — help people understand" how allowing the former wouldn't "undermine U.S. climate leadership" like Biden did when he killed the former on environmental grounds.

Psaki hilariously claimed "we're hardly letting any country or other countries build Nord Stream 2" and they had no option other than to "convey that we believe it's a bad — a bad idea, a bad plan" because "[w]hen the President took office, 95 percent of this pipeline was built."

Reacting to Psaki's answer that amounted to little more than a shrug emoji, Doocy continued to press and focused on the lack of sanctions[.]
Houck might as well be writing Fox News press releases.
Posted by Terry K. at 1:29 PM EDT