WND Columnist Pushes Bogus Attack on Kerry
Topic: WorldNetDaily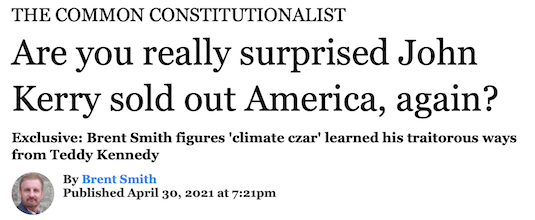 Brent Smith ranted in his April 30 WorldNetDaily column:
If you're surprised by recent revelations about America's "climate czar," John Kerry, then you don't know John Kerry.

"… the newspaper [New York Times] reported the audio revealed that Kerry had disclosed sensitive intelligence about Israel to [Iranian Foreign Minister Mohammad Javad] Zarif."

According to leaked audio, "Former Secretary of State John Kerry informed him that Israel had attacked Iranian interests in Syria at least 200 times, to his astonishment, Zarif said," the New York Times reported.

If you're surprised that the former Obama secretary of state, now a member of the Biden administration, contacted one of our most hated enemies, Iran, and outed one of our closest allies, Israel, you don't know the traitorous John F. Kerry. This is a pattern of the smarter-than-you-and-I, haughty John Kerry (hat tip: Rush Limbaugh).

He's the same man, then a private citizen, who secretly met with Iranian officials during the Trump presidency to attempt to undermine the Trump administration to save the disastrous Obama/Iran nuclear deal. Of course none of the Trump people knew a thing about it.

Again, this is nothing new for Kerry – selling out one side to benefit the other. Yet it's always the good guys he sells out, in favor of our enemies.
As we documented when the Media Research Center and CNSNews.com pushed it, this story is dubious at best. nThe date of the Zarif conversation is unknown, but it was public knowledge as early as July 2017 (thanks to Israeli Prime Minister Benjamin Netanyahu getting caught on a hot mic) that Israel had attacked Iranian assets in Syria, and Zarif should have kinown -- he appears to have been complaining that he was out of the loop.
Nevertheless, Smith continued: "Kerry knew, long before Rush Limbaugh began repeated it, that, "The nature of the evidence is irrelevant; it's the seriousness of the charge that matters." Smith has demonstrated that obviously knows that as well.
Posted by Terry K. at 1:22 AM EDT