CNS Offered Biased Coverage of Biden's Speech to Congress
Topic: CNSNews.com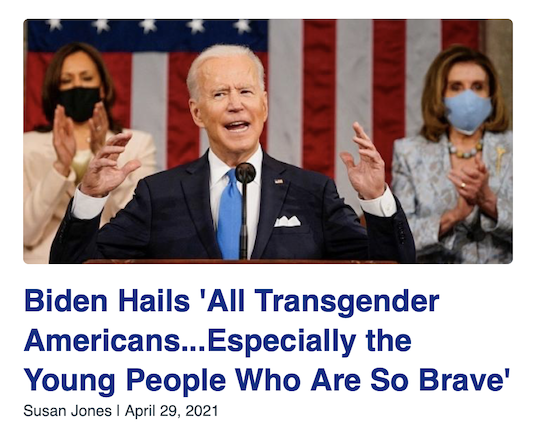 CNSNews.com served up the biased coverage of President Biden's speech to Congress that anyone with a pulse was expecting -- cherry-picking moments it could portray in a negative light for its right-wing audience whiile failing to cover the speech as a whole.
Things started off with a biased complaint from Patrick Goodenough, who grumbled that Nancy Pelosi was nicer in introducing Biden than she was ayear earlier in introducing then-President Trump:
What a difference a year makes.

As she introduced President Joe Biden ahead of his address to a joint session of Congress on Wednesday night, House Speaker Nancy Pelosi did not hide her enthusiasm.

"Members of Congress," she said, in muffled tones through her mask. "I have the high privilege and distinct honor to present to you the president of the United States."

Moments beforehand, Biden had handed her a copy of his speech, and the two met eyes over their masks, with Biden briefly raising one hand. When Biden finished his address, they bumped elbows.

Almost 15 months earlier, as Pelosi introduced President Trump for what would be his last State of the Union address, she said simply, "Members of Congress, the president of the United States."
CNS then launched into a series of articles target various aspects of Biden's speech:
By contrast, Susan Jones was quite reverential to Rep. Tim Scott's Republican response to Biden, oddly highlight his response to things in Biden's speech that CNS never covered:
Shortly after President Joe Biden urged Americans to seize the opportunity "to root out systemic racism that plagues America," Sen. Tim Scott -- a black man who has experienced discrimination firsthand -- rejected the claim that this is a racist country:

"Hear me clearly: America is not a racist country," Scott said in his response to Biden's speech.

[...]

Scott said he has experienced the pain of discrimination, including from "progressives" who disagree with his conservative views:

"I know what it feels like to be pulled over for no reason. To be followed around a store while I'm shopping...I've also experienced a different kind of intolerance.

"I get called "Uncle Tom" and the N-word -- by "progressives"! By liberals! Just last week, a national newspaper suggested my family's poverty was actually privilege because a relative owned land generations before my time. Believe me, I know firsthand our healing is not finished."

(Indeed, "Uncle Tim" began trending on Twitter Wednesday night as Sen. Scott spoke.)
To add insult to bias, Jones contributed an article on former President Trump's reaction to Biden's speech, putting his sneer that "Nancy's mask was the biggest mask I think I've ever seen" right in the headline. She rehashed a good part of that article in a follow-up piece on Pelosi explaining why members of Congress wore masks.
The coverage concluded with editor Terry Jeffrey playing mask gotcha:
When a masked President Joe Biden entered the chamber of the U.S. House of Representatives on Wednesday to deliver his address to a limited number of senators and congressmen—as the video below shows--he fist-pumped the bare knuckles of at least eight people.

Then he patted Chief Justice John Roberts on the arm.

As he then gave his speech—with Vice President Kamala Harris and Speaker Nancy Pelosi conspicuously wearing masks behind him--Biden repeatedly put his hand to his face.

Sometimes he wiped his open mouth. Sometimes he rubbed the base of his nose. Then he wiped his eye.

On the way out of the chamber, he had skin-to-skin contact with multiple members—including one who held his fist in her hand and another who shook his hand.

He did this at an event where many members of Congress were denied entry into the chamber in order to avoid the risk of spreading COVID-19.
This is what CNS deemed to be more important than a comprehensive, objective overview of Biden's speech.
Posted by Terry K. at 1:28 AM EDT
Updated: Thursday, May 27, 2021 1:43 AM EDT