MRC Psaki-Bashing, Doocy-Fluffing Watch
Topic: Media Research Center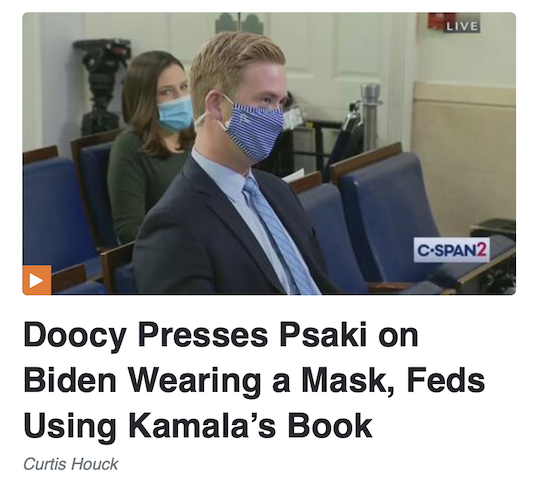 Even when the Media Research Center's Curtis Houck doesn't have Peter Doocy to man-crush over at Jen Psaki's White House press briefings, he can still indulge in the ol' MRC tradition of trying to play cancel culture on public broadcasting. For Psaki's April 20 briefing, Houck declared his outrage at PBS' Yamiche Alcindor refusing to play along with right-wing narrative by screeching "DEFUND PBS" in the headline:
Hours before the guilty verdict in the Derek Chauvin trial, White House reporters stepped up Tuesday afternoon and did their due diligence in a briefing filled with harsh questioning. At least six reporters went toe-to-toe in slamming Press Secretary Jen Psaki over President Biden's earlier comments demanding a guilty verdict and the White House's refusal to call out Congresswoman Maxine Waters (D-CA) for comments threatening the jury.

However, PBS's Yamiche Alcindor was still a holdout in defending Waters. After a serious questions seeking clarification on Biden's comments, she asked if she "could speak to Americans who feel on edge" and "anxious," but "especially African Americans who have seen so many verdicts, so many trials happen."

Alcindor's subsequent question was the epitome of liberal partisanship and why PBS shouldn't be able to engage in partisan activity using our tax dollars as she went to bat for Waters against "an onslaught of attacks" from Republicans:
Houck found another right-wing reporter to fawn over for the April 21 briefing:
Near the end of Wednesday's White House press briefing, the New York Post's Steven Nelson irked Press Secretary Jen Psaki with a basic question about whether President Biden "acknowledge[s] his own role" in major crime legislation that leftists argue contributed to the "systemic racism" his administration has claimed they will work to eradicate[.]

Nelson used most of his time to continue his pattern of pressing Psaki on matters concerning federal marijuana policy and its affect on administrative staffing.

After four questions about marijuana, Nelson pivoted to Biden's comments following the verdict in the Derek Chauvin trial in which he said the murder of George Floyd "ripped the blinders off for the whole world to see the systemic racism in the United States."

Nelson argued Biden said that despite the fact that "he's an architect of multiple federal laws in the 1980s and '90s that disproportionately jailed black people and contributed to what many people see as systemic racism."

Citing Cornell West as having called Biden one of the core "architects of mass incarceration" that needs to atone for, Nelson wondered: "To what extent does President Biden acknowledge his own role in systemic racism? And how does that inform his current policy positions?"
Houck put Nelson in his hostile right-wing reporter pantheon: "Like Fox's Peter Doocy and Kristin Fisher and Real Clear Politics's Philip Wegmann, Nelson has established quite the track record of asking probing questions aimed at soliciting answers from Psaki, but have instead left her both perturbed and stumped."
Houck never described his other crush, Kayleigh McEnany, as having been "perturbed and stumped" by "probing questions" from reporters -- he was too busy attacking the reporters who asked them.
Houck then skipped a few days of briefings because they were "uneventful" -- meaning that Doocy and Co. weren't there to ask hostile questions. But for the April 27 briefing in which Doocy made his first appearance back from his honeymoon, Houck excitedly squealed, "He's Back!":
After a few uneventful White House press briefings, Monday's episode drew a number of interesting exchanges on the border crisis, the coronavirus pandemic, masking, schools, and President Biden's Wednesday address to a Joint Session of Congress.

And after having been off to get married, Fox News's Peter Doocy returned with a bang in an exchange on the administration's continued masking despite having long been vaccinated.
This was the briefing that Houck later stealth-edited to obscure the fact that Doocy pushed fake newsby repeating a false claim that federal officials were giving copies of a book written by Vice President Kamala Harris to immigrants. And Houck hates Psaki so much that he refused to mention that Psaki congratulated Doocy on his marriage (or that Psaki blew up Doocy's mask questions).
This was followed the next day by Houck pushing (through another right-wing reporter, Wegmann) another boghus story, about "former Secretary of State John Kerry reportedly selling out Israel to his friends in the terrorist-loving Iran." As we've noted, Houck is joining his MRC buddies in choosing to trust an enemy of the United States over a Democrat.
Posted by Terry K. at 4:46 PM EDT
Updated: Sunday, May 23, 2021 10:19 PM EDT