Hunter Biden's Book Triggers The MRC
Topic: Media Research Center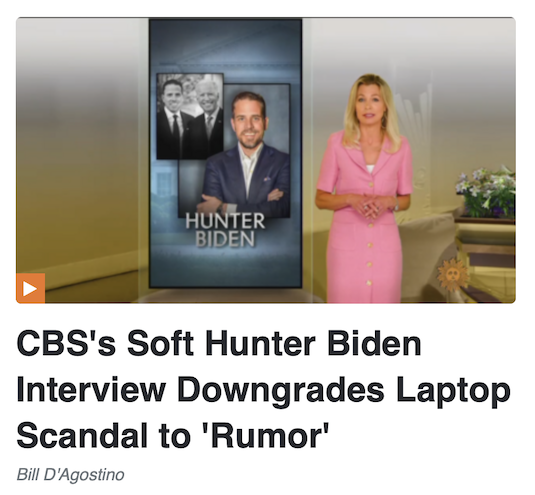 As loyal pro-Trump sycophants, the Media Research Center went all in on the Hunter Biden laptop story before the election -- the point was to get Donald Trump re-elected after all, not tell the truth. Meanwhile, to this day the authenticity of the laptop has not been independently confirmed. But Hunter is not a real person to the MRC -- he's a target and a political weapon to use against his father. So when Hunter wrote a memoir, the MRC was predictably triggered. Scott Whitlock whined in a April 2 post:
Hunter Biden has a lucrative new book to promote, So now it's okay to ask him basic questions about a missing laptop that may implicate his dad, the now-president, in business dealing with China and Ukraine. CBS will have a pair of interviews with Hunter airing on Sunday and Monday morning. CBS This Morning co-host Gayle King on Friday reacted to a preview of one by gushing, "What Hunter just said there I thought was — gave me goosebumps.
After Hunter said he wasn't sure whether the laptop was his, Whitlock huffed: "Perhaps the networks and other outlets should have been following the laptop story more closely last year during the presidential election. Instead they ignored or tried to debunk the story." Again, the story hasyet to be independently confirmed, and given that it was forwarded by Trump allies like Rudy Giuliani and the New York Post, there was (and is) plenty of reason to not accept the story at face value.
Bill D'Agostino similarly complained in an April 4 post:
Hunter Biden's new book deal landed him a sympathetic interview on this weekend's CBS News Sunday Morning with correspondent Tracy Smith. While the interview alluded to various political scandals plaguing the younger Biden (namely the Burisma controversy, the laptop scandal, and an ongoing active investigation into his finances), it provided viewers with barely any information about the scandals themselves, while giving him plenty of time to argue his innocence.

[...]

The Friday morning preview of this interview contained an admission from the younger Biden that the laptop "could be" his. Unfortunately, the full interview that aired on Sunday failed to provide anything else of note about the topic. Instead viewers were treated to another insinuation that the whole story was Russian propaganda: "Last month, a declassified intelligence report said that before the election, the Russians had launched a smear campaign against Joe Biden and his family."
That same day, P.J. Gladnick raged that a Politco article called Hunter a "noted locomotive expert" in an article because he once served on the Amtrak: "Does that mean that high speed rail conferences around the world are incomplete without the input of Hunter Biden, the "noted locomotive expert?" And how did Hunter gain such expertise on the subject to the extent to be on the board of Amtrak? Well, he did it by riding the choo-choo a lot."
Whitlock returned to huff: "CBS donated 25 minutes of air time to syrupy, softball interviews of Hunter Biden. Despite the massive amount of coverage, the journalists offered little in the way of curiosity about what was actually on the laptop Biden now admits 'certainly' could have been his." He further dismissed this as "Biden propaganda" and complained that Hunter's book was published by a division of the company that owns CBS.
Tim Graham devoted his April 7 column to complaining that Hunter -- and, by extension, Joe Biden -- wasn't being destroyed as a man while promoting his book, bashing one reviewer for saying that the book "humanizes Hunter." We wouldn't want that, would we, Tim? Graham further complained: "The most overlooked fact on the Hunter Biden book-and-sympathy tour is that he was committing many of these financial scams and behavioral debaucheries while his father was in the obscure job of... Vice President of the United States."
Curtis Houck touted pornography in an April 9 post:
Scandal-plagued First Family member Hunter Biden continued his book tour late Thursday with a softball-laden interview with ABC late-night host Jimmy Kimmel, who assisted him in not only dismissing the infamous laptop as "a red herring" because it came from Rudy Giuliani, but declare that he was eminently qualified to served on the board of Burisma.

Unsurprisingly, Kimmel and Biden did not address the breaking news from hours earlier when the Daily Mail published more of what they said were contents of Biden's laptop, including naked photos of Biden with prostitutes.
Like Graham, Houck groused that Hunter said he wrote the book to "humanize people suffering from addiction," and continued to treat Hunter as the less-than-himan he clearly believes the guy is: "While the interview started on a bizarre note before going to the softball portion, Kimmel ended with a retelling of how quickly Biden married his current wife less than a week after they met. Of course, there was nothing about how Biden dated his late brother Beau's widow for a period of time."
(Also: The Daily Mail is even less credible than Giuliani and the New York Post, which Houck somehow forgot to mention.)
Graham devoted a podcast the same day to the Kimmel interview, in which he whined that Hunter wouldn't appear on Fox News and the Kimmel's interview was "uber-sympathetic, apologies to Uber." We wouldn't want anyone to think Hunter Biden is a human deserving of even a bit of sympathy, eh, Tim?
Graham whined further that Hunter Biden hasn't been subjected to fact-checking by PolitiFact while the Trump children have been. He forgot to mention that the Trump children, unlike Hunter, have been very politically active in service to their father and, thus, make political statements that are fact-check-worthy.
Posted by Terry K. at 9:55 PM EDT