WND Back to Peddling Bogus Election Fraud Claims
Topic: WorldNetDaily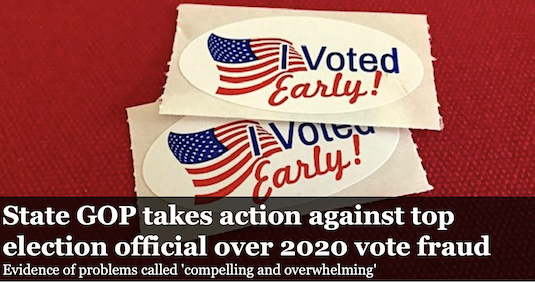 WorldNetDaily's brief period of correcting its false claims of election fraud appears to have ended -- and it's repeating bogus claims with impunity again.
An April 12 article by Bob Unruh highlighted how the Nevada state Republican Partycensured secretary of state Barbara Cegavske, "accusing her of failing to fully investigate the fraud allegations" made by Donald Trump in the 2020 election. He added: "The Gateway Pundit noted that besides the hundreds of ballots cast in the name of dead voters, more than 42,000 people in Nevada voted more than once."
Neither of those things are true. USA Today summarized how they are false:
The claim that 42,000 people voted more than once in Nevada is false. The allegation originates from testimony before the Senate Homeland Security and Governmental Affairs Committee presented by Trump campaign attorney Jesse Binnall.

The evidence for Binnall's claims was not shown publicly and was partially obtained through Department of Motor Vehicle records, according to 8 News now.

Derek T. Muller, a professor at the University of Iowa College of Law, analyzed the origins of Binnall's 42,000 figure and found that the claim stemmed from a report by the Republican National Committee's chief data officer, Jesse Kamzol. The report lacked overall methodology and underlying data.

[...]

Binnall's claim that dead people voted in Nevada's presidential election has been repeatedly debunked by election officials.

The district court said this claim was unfounded based on Nevada Deputy Secretary of State for Elections Wayne Thorley's testimony on the process to "maintain voter rolls, including removing confirmed deceased voters."
In an April 19 article, Unruh touted MyPillow guy Mike Lindell's lawsuit against Dominion Voting Systems (without, of course, telling readers how crazy the lawsuit is). Unruh wrote:
Lindell was among the Trump supporters who claimed the results in key battleground states were affected by fraud, based on sworn statements of witnesses and huge dumps of ballots in the middle of the night in Biden's favor.

Nearly every legal case based on that evidence was dismissed not on the merits, but on technical grounds.

What has not been challenged is the fact that election officials in several states change polices and procedures without the permission of state lawmakers, to whom the Constitution assigns that authority.
Unruh offered no supporting evidence for that last claim. The one relevant case we're aware of took place in Pennsylvania, where its secretary of state made changes before the election; election law experts have said that the executive branch has the authority to decide how to implement election law, and the Pennsylvania Supreme Court upheld the secretary of state's decisions. The U.S. Supreme Court declined to take up the case.
Peddling the Big Lie -- which, by the way, editor Joseph Farah has gone all in on -- is not going to make readers trust WND, whcih seems to have forgotten that its embrace of conspiracy theories is one big reason the operation has been teetering on bankruptcy for the past few years.
Posted by Terry K. at 12:43 AM EDT