The MRC's Mini-War on Seth Meyers
Topic: Media Research Center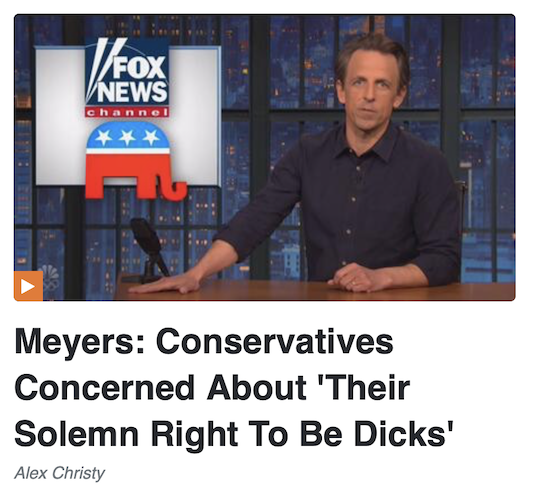 The Media Research Center hates it when late-night host Seth Meyers calls out conservatives. It's been hurling insults at him for years, trying to tag him as "socialist," "nasty" and a "liar" (weird, we thought fact-checking humor was a lame thing to do). But this year, the MRC has gone off on Meyers even more.
On Feb. 11, Alex Christy tried to hang another insult on him -- "unfunny hack" -- and complained that "former comedian turned Democratic hack" Meyers "alleged early Tuesday morning that allowing Bush officials off for their supposed wrongdoing led Trump to believe he could get away with similar wrongdoing. Is this really what anyone would come to at the end of the day before bed? It's certainly not funny."
Christy ranted at Meyers again on Feb. 26: "During his typically humorless monologue early on Thursday, Late Night host Seth Meyers praised President Biden's vaccine distribution record, contrasting it with that of "President Outbreak Monkey." But, it was not all good news, as he also condemned Biden for not being far enough to the left."
Christy complained yet again on March 3:
Hey, conservatives and independents, you're just imagining all those attacks by the left and woke culture. Late Night host Seth Meyers alleged on Tuesday that conservatives may not be unified on the idea of Trump 2024, but if CPAC proved anything, it is that conservatives are united around stupid culture war issues that nobody cares about.

After discussing the results of CPAC's straw poll where Trump could not "even get above 55% with these wingnuts," Meyers noted that the "only truly unifying thing at CPAC, the beating heart of modern conservatism, were the dumb, invented culture war grievances, as evidenced by their complaints about total nonsense, like The Muppets and Mr. Potato Head."

[...]

If conservatives are detached for merely responding to the left's culture war offensive, what does that make Meyers' fellow leftists, considering they are now also trying to cancel Dr. Seuss?
Of course, the MRC was a loyal combatant in the wars of the Muppets, Mr. Potato Head and Dr. Seuss.
Krstine Marsh took over the insult part fo a March 9 post:
Is Late Night host Seth Meyers trying to win an award for the most obnoxious Democrat sycophant on late night TV? A valid question, considering his "Closer Look" monologue Monday night smearing Republican "sociopaths" for not supporting President Biden's bloated "relief" bill might as well have been paid for by the Democrat party [sic].

[...]

The comedian had no shame in debasing himself for the Democrat party [sic], harping on how this dream bill was going to rescue Americans from poverty[.]
Nothing says "reliable research" like Marsh's deliberate inability to get the Democratic Party's name right.
Christy returned on March 11 to complain about a sketch featuring a Melania Trump impersonator mocking her post-presidency "Office of Melania Trump," of which he huffed, "None of this routine was funny." The MRC is quite protective of Melania.
IN a March 16 post, Scott Whitlock called Meyers a "FRAUD" and a "far-left hack host," grousing that Meyers refused to buy into the right-wing attack narrative against New York Gov. Andrew Cuomo but "finally, belated" got with the program.Three days later, Kyle Drennen declared Meyers to be "UNHINGED" in complaining that "radical leftist host Seth Meyers spewed Democratic Party propaganda for 15 minutes straight during one of his notoriously hackish Closer Look segments, this time preaching the brazen effort by left-wing lawmakers to undermine election integrity. The unfunny shill, who abandoned comedy long ago, desperately argued that 'nuking' the filibuster in the Senate was a "moral necessity" in order to help Democrats rig future elections in their favor." He unironically complained that "In the mind of left-wing hacks like Meyers, a 'level playing field' is one in which the rules are always changed to make sure that Democrats never lose another election" -- even though Republicans are in the midst of changing state laws to make sure they never lose another election.
Christy returned once more on March 26 to huff that Meyers, "trying to compensate for his lack of comedic talent, spent his late Thursday show parading around his potty mouth, instead" by noting that "The modern conservative movement seems concerned above all else with preserving their solemn right to be dicks to everyone else around them." Has he forgotten all the insults he and his fellow MRCers have been hurling at Meyers? That's dickishness personified.
Whitlock huffed on April 15: "Late Night hack Seth Meyers pretends to be a comedian, but he's really just a shill for the left, shifting his nightly harangues to whatever his Democratic bosses would like. So it's no surprise that he's suddenly excited about pulling troops out of Afghanistan, but wasn't when Donald Trump was president." Whitlock didn't mention whether he did any research to see if conservatives who supported withdrawal with Trump proposed it now oppose it under Biden.
Posted by Terry K. at 10:02 PM EDT