WND Clings To The 'Charlottesville Lie' Lie
Topic: WorldNetDaily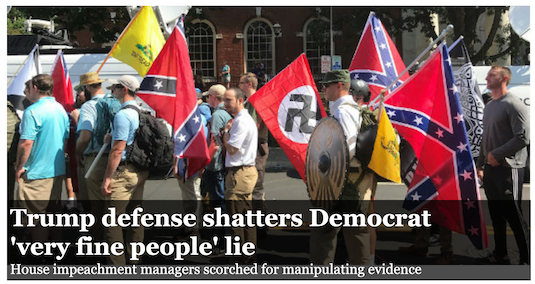 We've noted how WorldNetDaily likes to push the claim that then-President Trump didn't really say that neo-Nazis and far-right militia members were "very fine people" in commenting on the 2017 Charlotteville protests. Art Moore took another crack at it in a Feb. 12 article:
A defense attorney for President Trump in the Senate impeachment trial on Friday refuted the oft-repeated "Charlottesville lie" that Joe Biden says prompted him to run for president.

House impeachment managers played a selectively edited video of Trump's 2017 remark on Thursday, claiming he referred to neo-Nazi rioters as "very fine people."

But David Schoen was ready with the full video, which shows the left has been dishonestly manipulating Trump's words to back their claim that he is a white supremacist.

[...]

Biden, in one of many occasions in which he repeated the lie, said during his acceptance speech at the Democratic National Convention last summer that Trump's words in 2017 were "a wake-up call for us as a country" and, for him, "a call to action."

"At that moment, I knew I'd have to run," he said.

In fact, during his remarks on Charlottesville, Trump immediately made it clear he was not talking about "the neo-Nazis and white nationalists," explicitly declaring "they should be condemned totally."

His reference – as a CNN contributor pointed out in a rebuke to his network colleagues – was to the people on both sides of the issue of whether or not to maintain statues of Robert E. Lee and other Confederate figures.
As we've pointed out, this argument omits the crucial context that the group that was protesting the removal of the Confederate statue and Robert E. Lee park renaming was a group calling itself American Warrior Revolution, which considers itself a militia and later effectively blaming liberal counterprotester Heather Heyer for her own death in getting mowed down by a car driven by white supremacist James Fields Jr.
Jack Cashill similarly pushed this bogus narrative in his Feb. 17 column:
One useful outcome of this most recent impeachment Kabuki was the exposure of the "very fine people" lie, the one spawned by the media in the wake of the Charlottesville, Virginia, dust-up in August 2017.

So pervasive was the lie that reportedly Trump's attorneys did not even know it was a lie until they began to research it.

Left unexplored, however, even by the conservative media, was how Joe Biden launched his presidential campaign on the wings of this lie and rode it, by hook and by crook, all the way to the White House.

[...]

The "fine people" Trump spoke of were those protesting the removal of Robert E. Lee's statue. Trump wondered out loud whether the removal of statues would lead to the removal of George Washington's statue or Thomas Jefferson's.

[...]

As has become the Big Media norm, the New York Times article on Biden's presidential announcement allowed his deceit to pass unremarked. Other media followed suit. And Biden kept lying.

The Charlottesville gambit was part of a larger strategy to paint Trump as a racist dating back to his challenge of Barack Obama's birth certificate eight years earlier.
Like Moore, Cashill refused to acknowledge that the group organizing against the Lee statue removal was a right-wing militia.
Posted by Terry K. at 11:57 AM EDT