CNS Misses 'Great Conservative Leader' Limbaugh
Topic: CNSNews.com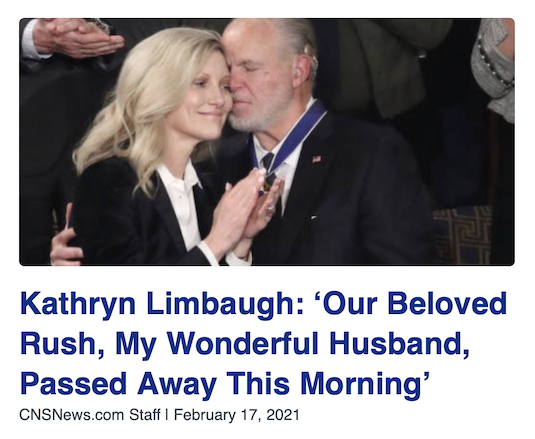 CNSNews.com unsurprisingly fell all over itself to toss plaudit after plaudit after the death of right-wing radio host Rush Limbaugh. It published these gooey tributes to him:
CNS also echoed its Media Research Center parent by complaining that others said not-so-nice things upon Limbaugh's death. One article groused that "less than two hours after it was announced that Rush Limbaugh had died," Amazon executive and former Obama press secretary Jay Carney tweeted that "There is a direct line between Rush Limbaugh and January 6th -- and it runs through Fox News," a sentiment the anonymous writer didn't dispute. Craig Bannister was annoyed that CNN's Jim Acosta pointed out that Fox News did a softball interview with Donald Trump discussing Limbaugh's death that didn't challenge him on the "election lies" he told.
And managing editor Michael W. Chapman devoted an article to whining that "Minutes after the death of conservative talk-radio legend Rush Limbaugh was announced today, some left-wing reporters took to Twitter to openly celebrate his death and attack and insult his memory." One of the things he complained about that reporters noted Limbaugh's "long history of sexist, homophobic and racist remarks." Chapman didn't dispute the claims -- and, like his MRC co-workers, he refused to acknowledge there are good reasons why people might feel that way about Limbaugh.
Perhaps Chapman and the rest of the CNS crew are silently acknowledging that racism, homophobia and misogyny are what one needs to be a "great conservative leader."
Posted by Terry K. at 12:42 AM EDT