MRC's Double Standard On Sleazy Sex Scandals
Topic: Media Research Center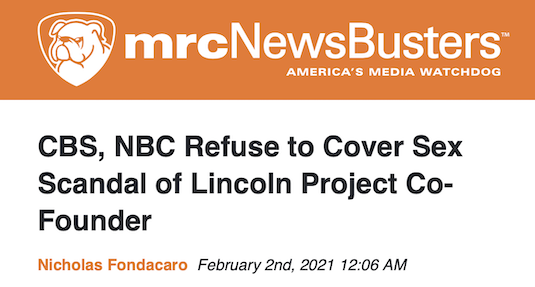 We've documented how the Media Research Center spent a lot of time over the past few years Heathering the Lincoln Project for being never-Trump conservatives and looks for any opportunity to write negatively about it. Well, it was handed a plum opportunity when it was revealed that Lincoln Project co-founder John Weaver had sent unsolicited and sexually provoctive messages to teenage males. Unsurprisingly, the MRC launched into its usual blitz of complaining that the alleged scandal wasn't getting attention outside its media bubble and that other Lincoln Project representatives were somehow still allowed to appear on TV:
Meanwhile, the MRC was studiously ignoring a creepy sex scandal involving a conservative who wasn't anti-Trump. Take it away, Law & Crime:
The Metropolitan Police Department (MPD) on Friday announced that a former aide to President Donald Trump was arrested in Washington, D.C. and charged with receiving, possessing, and distributing child pornography.

Ruben Verastigui, 27, who worked on Trump's 2020 re-election campaign, was previously employed as a senior digital strategist for the Senate Republican Conference and Republican National Committee. He was also the digital media coordinator for the anti-abortion group Students for Life of America. He left the Republican Conference in July of 2020 to become the communications manager for the nonprofit group Citizens For Responsible Energy Solutions.

[...]

The details are graphic.

According to that public document, Verastigui allegedly told another person in April of 2020 that he was "into" sexually assaulting babies.
The MRC has censored any mention of Verastigui and his crime. Meanwhile, his former employer, Students for Life, has been given a lot of play at the MRC; The group's leaders have been been signatories to two letters issued by the MRC pushing its dubious narrative that "Big Tech:" is solely muzzling conservatives, and a January post by Gabriel Hays cited Students for Life among the groups cheering a Supreme Court ruling making it harder to obtain medication to induce an abortion.
If the Lincoln Project is tainted by Weaver's sleazy sex scandal, why isn't Students for Life tained by Verastigui's even sleazier sex scandal?
You'd think that the MRC would be outraged at all sex scandal perpetrators. Apparently, those who are sufficiently loyal to the right-wing cause and the organizations that employed them get a pass.
Posted by Terry K. at 8:26 PM EDT