MRC Sneers At Tom Brokaw's Retirement
Topic: Media Research Center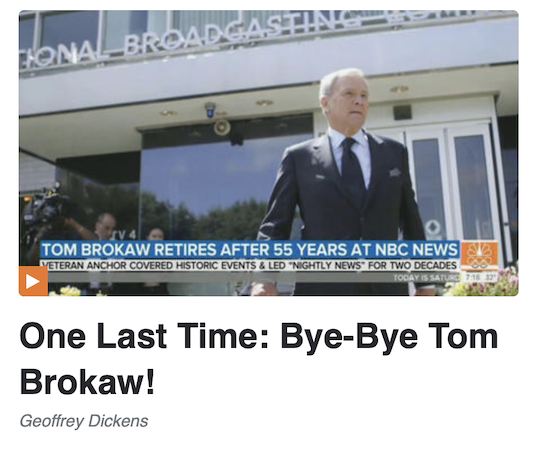 The Media Research Center's reason for existence is to hate anyone who doesn't peddle right-wing talking points in the media and to brand those people as "liberal" (even though the MRC's worldview is so far to the right that it brands objective reporters as "liberal"). So when legendary anchor Tom Brokaw announced his full retirement from NBC, Geoffrey Dickens offered nothing but sneering and derision:
On Friday, Tom Brokaw formally retired from NBC News. If you are confused, it's because he already had one retirement when he vacated the NBC Nightly Newsanchor chair for Brian Williams back in 2004. But like a college professor who awkwardly still hung out with kids decades younger than him, he hung around the NBC offices in an Anchor Emeritus role. Some of those "kids" like Chuck Todd, Peter Alexander and Willie Geist said their goodbyes over the weekend.

Newspaper headlines touted Brokaw as a "broadcasting legend," while he was toasted on Twitter as a "national treasure." On Monday's Today, Hoda Kotb boasted her colleague was "a titan in journalism, an icon here at NBC." New York Times critic James Poniewozik wistfully remembered the era when Brokaw, Dan Rather and Peter Jennings had huge influence over the public: "They were in a way like world luminaries in themselves."

Occasionally we'd hear from Mr. Brokaw at the MRC. Like that one time at a July 25, 2004 forum at Harvard University's School of Government where he complained: "There are organized interest groups out there. There's a guy by the name of Brent Bozell, who makes a living at, you know, taking us on every night. He's well-organized, he's got a constituency, he's got a newsletter. He can hit a button and we'll hear from him."

And, while Brokaw was never as obnoxious as today's outspoken liberal hosts (think: CNN's Don Lemon and Chris Cuomo, or MSNBC's Joy Reid and Rachel Maddow), he certainly used his perch at NBC to promote a liberal view of politics.
So Dickens is mad that Brokaw called out the MRC for what it is -- a right-wing outrage machine.
Dickens went on to attack Brokaw for expressing "liberal" opinions he didn't agree with from the past 16 years, when he was not acting as a reporter or anchor and thus should have had no problem expressing opinions. But they were deemed to be "liberal" opinions, which Dickens and the MRC are trying to eradicate from the media landscape.
The MRC has long hated Brokaw, even though he has Republican leanings (indeed, Tim Graham had no problem with Brokaw serving as a liaison between John McCain and NBC during his 2008 presidential campaign). It also praised a 2009 book by anti-liberal ex-reporter Bernard Goldberg that included a doctored coversation involving Brokaw. In 2012, MRC chief Brent Bozell ridiculously attacked Brokaw for complaining he was put into an for then-presidential candidate Mitt Romney.
Posted by Terry K. at 9:16 PM EST
Updated: Sunday, February 21, 2021 9:27 PM EST