MRC Still Spreading Lies About Margaret Sanger
Topic: Media Research Center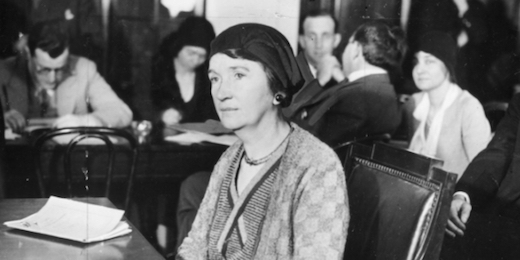 The Media Research Center has long spewed hate at Planned Parenthood founder Margaret Sanger, much of it factually incorrect (good thing for the MRC that it's not against the law to libel the dead). And it hasn't stopped.
In a Dec. 2 post, Elise Ehrhard attacked the ABC show "Black-ish" for having a character who donated to Planned Parenthood instead of to church. Ehrhard huffed in response: "Why would a show that is supposed to promote an empowering image of black Americans promote an organization that kills thousands of black babies every year? Are the writers of Black-ish not aware that Planned Parenthood was founded in part to 'eliminate the Negro population?' Its founder Margaret Sanger considered black Americans, as well as other minority populations, to be 'human weeds.'"
The "human weeds" quote is a lie. Ehrhard's source is the rabidly anti-abortion LifeSite News, which falsely claims that Sanger called blacks "human weeds" in a publication called "The Pivot of Civilization." But the phrase "human weeds" is nowhere to be found in the copy of "The Pivot of Civilization" to which LifeSite links. And the "eliminate the Negro population" phrase is plucked out of context from a letter regarding a project to bring birth controlto black communities; in full context, Sanger was seeking to recruit black leaders for the effort to allay suspicions blacks might have had about whites like Sanger being involved.
In a Jan. 15 post attacking Time magazine for interviewing the head of Planned Parenthood, Tim Graham claimed that the interviewer "very carefully avoids the trap of Planned Parenthood's founder Margaret Sanger being a eugenicist who wanted to abort minorities." Graham's support for this claim was a column from July in which he twice asserted that Sanger was a "racist and eugenicist" but the only evidence he offered to back up the claim was that she once spoke to a Ku Klux Klan women's auxiliary.
While Sanger was unquestionably a eugenicist -- as were many people of her time -- but there's no evidence she was especially racist. As we've documented, the KKK women's auxiliary was not the Klan itself (anyway, the Klan of the 1920s was actually not that different from conservative groups of today, with as much focus on fundamentalism and patriotism as racism and anti-Catholicism, and it was arguably something of a mainstream group), Sanger would speak to anyone who would let her, and she later called the speech "one of the weirdest experiences I had in lecturing."
Yep, the MRC should be very glad that it's OK to libel the dead.
Posted by Terry K. at 10:09 AM EST
Updated: Saturday, February 20, 2021 10:12 AM EST