CNS Unemployment Coverage Distortion Watch, President Biden Edition
Topic: CNSNews.com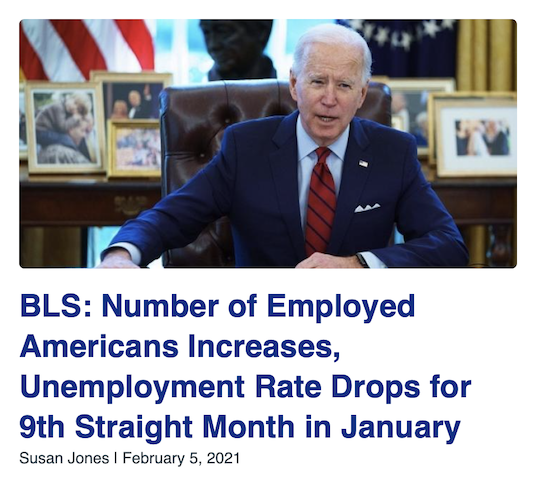 Donald Trump was president for the first 20 days days of January, but you'd never know it from CNSNews.com's coverage of January's unemployment numbers. That fact is ignored in Susan Jones' main story; instead, the focus is on blaming incoming President Biden for the not-good numbers even though he was president for only the final 11 days of the month (and, of course, remind us that the pre-pandemic economy under Trump was amazing):
The first employment report of the Biden presidency, coming just 16 days after he took the oath of office, shows the economy is improving, but has a long way to go to match the records set before the coronavirus hit in early 2020.

In January, the unemployment rate fell by 0.4 percentage point -- to 6.3 percent from December's 6.7 percent -- as the number of unemployed people decreased by 606,000 to 10,130,000 and the number of employed people increased by 201,000 to 150,031,000.

The number of employed Americans has now increased for nine straight months, but remains well below the record 158,735,000 set under President Trump in December 2019.
By contrast, CNS' coverage of the January 2017 numbers was all about heaping blame on President Obama, complete with a sidebar on the "real unemployment rate" -- something CNS never reported while Trump was president even though it was actually higher for a few months following the intial outbreak of the pandemic than it ever was under Obama.
Jones took another shot at Biden:
Notably, Joe Biden came into office talking about job creation in the clean energy sector, but his first executive actions -- including cancelation of the Keystone XL pipeline and his relaxed immigration policies -- are expected to cost some American citizens their jobs at a time when the coronavirus pandemic has devastated many businesses.
This was followed by "excerpts of his remarks as he promised massive job creation, even as he launched job decimation in the fossil fuel/pipeline industries."
The only sidebar this time around was one from Craig Bannister on Hispanic unemployment, which "improved in January as the nation's businesses continued reopening from the coronavirus-prompted shutdown and 230,000 fewer Hispanics participated in the labor force." Bannister made no mention of either Biden or Trump.
Posted by Terry K. at 1:02 AM EST