CNS Whitewashes Curt Schilling's Hate, Lets Him Play Victim
Topic: CNSNews.com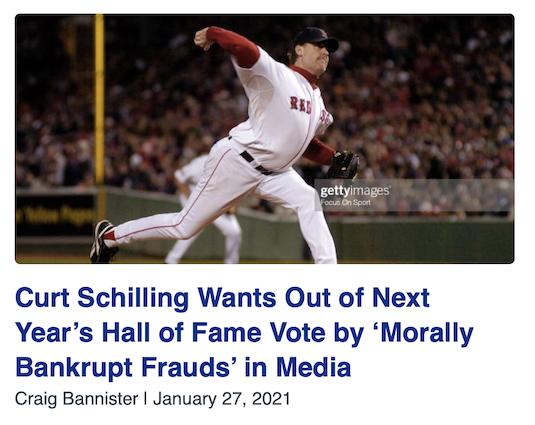 Craig Bannister manufactured some victimization for retired baseball pitcher Curt Schilling in a Jan. 27 CNSNews.com article:
Former three-time World Series winning pitcher Curt Schilling is asking that he be removed from contention in next year's vote for Major League Baseball's (MLB) Hall of Fame, voted on by "morally bankrupt" sports writers.

Schilling, who won 216 games and had an 11-2 record in the playoffs in his major league career, made the announcement on social media on Tuesday via a pair of tweets linking to a Facebook post of his request in a letter to the Hall of Fame:

[...]

Schilling has been the subject of hostile press for his conservative views and public comments, such as his opposition to transgender bathroom policies, comparison of Muslim extremists to Nazi-era Germans, and characterization of liberals who refused to denounce last year's violent riots in major U.S. cities.
But Bannister is not telling the full story about Schilling's "conservative" comments. Boston Globe columnist Dan Shaughnessy explained:
Curt Schilling would help himself if he'd stop spewing hate and claiming he's being punished by Baseball Hall of Fame voters because of his "politics."Supporting a racist mob that stormed the Capitol is not being "political." Advocating for lynching journalists, calling Adam Jones a liar when he said he heard racist slurs at Fenway Park, bilking Rhode Island out of $75 million, collecting Nazi memorabilia, and posting anti-transgender material … these are not "political" stands.

Mariano Rivera is a Donald Trump supporter and he sailed into the Hall of Fame unanimously.
Shaughnessy added that even without his hateful remarks, Schilling's Hall of Fame entry would not be guaranteed: "Schilling's baseball case for Cooperstown is legit, but hardly a slam-dunk like a Pedro or a Koufax. He was 11-2 in the postseason and a historic strike-throwing machine. Otherwise, he compares most favorably to Kevin Brown, Kenny Rogers, and Tim Hudson, who are not in."
But when you're pushing conservative victimization, as Bannister is here, the narrative is more important than the truth.
Posted by Terry K. at 1:01 AM EST