The Rise and Fall of Sidney Powell At WND
Topic: WorldNetDaily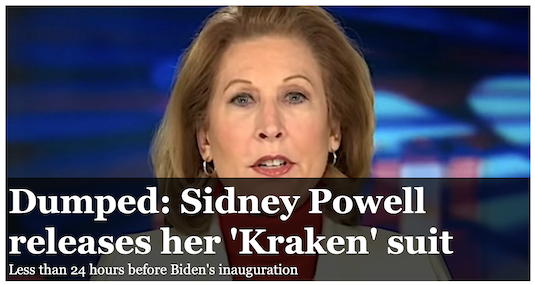 Conspiracy-obsessed pro-Trump lawyer Sidney Powell has been having a rough few weeks, and WorldNetDaily seems a little sad about it.
WND loved her antics at first, of course, giving her uncritical coverage in articles in November and December:
WND also published a Nov. 17 column by Teresa Blazewicz laughably declaring that "Sidney Powell's battle for democratic freedom in the United States today mirrors the battle Joan of Arc fought on behalf of her country so many years ago."
But when Powell was dismissed by Trump's legal team, WND's Joe Kovacs was concerned since she was "appearing with President Trump's campaign lawyers at news conferences through last week," then touted how "Powell said she was going to file a lawsuit of 'biblical' proportions in order to 'blow up' 2020 election results based on alleged fraud involving electronic voting machines in Georgia." Blazewicz returned on Nov. 24 to buck up Powell after her dismissal from the Trump team, insisting that "Sidney Powell is a serious lawyer who has poignantly stated that she never says anything she cannot prove, and who has had, up until this moment, a generally unassailable reputation."
The glowing "news" articles continued, including a piece republished from the Western Journal headlined "Sidney Powell is building a RICO case against Dominion and Smartmatic." That was followed by a piece from Bob Unruh headlined "Sidney Powell: 2020 election was masterpiece of deception."
But it started becoming clear (to WND, at least; the rest of us figured it out some time earlier) that the only master of deception here was Powell. On Jan. 8, Unruh reported Dominion's $1.3 billion lawsuit against Powell for her lies about the company falsely claming its machines changed vote counts.Unruh tried to put a positive spin on things, declaring that "In a defamation case, Dominion must prove the falsity of the statements. Allaw.com noted truth is an 'absolute defense' in such claims, and pretrial discovery in the case will enable Powell to question Dominion official under oath and obtain evidence."
WND's admiration for Powell, though, ultimately went down with a whimper as Kovacs used a Jan. 19 article to recount how Powell withdrew her "Kraken" lawsuit:
Sidney Powell, the high-profile attorney who vowed to "release the Kraken" in a lawsuit alleging widespread fraud in Georgia resulting in a presidential victory for Joe Biden, has voluntarily dropped her legal action less than 24 hours before Biden's inauguration.

In a motion filed at the 11th Circuit Court of Appeals, Powell and other attorneys agreed with defendants including Gov. Brian Kemp and Sec. of State Brad Raffensperger to have the case dismissed.

"This civil action brings to light a massive election fraud," her original lawsuit had indicated.

"I feel very optimistic the truth will get out," Powell had said in November concerning her actions trying to prove fraud helped steal the election away from President Trump. "Of course, everybody on the face of the earth now is trying to suppress it, including people in our own government.

"But I won't quit until it's out and (we) release the Kraken," she said, invoking a line from the mythological monster fantasy film "Clash of the Titans."

Powell was a guest on numerous TV and radio programs, alleging Dominion Voting Systems, the company supplying voting machines for Georgia and other states, was rigging the election in favor of Biden.
WND hasn't mentioned her since --perhaps to keep it out of further defamation lawsuit scrutiny, since it already opened itself up to that when it published James Zumwalt's attack on a Dominion official.
Posted by Terry K. at 12:19 AM EST
Updated: Saturday, February 6, 2021 12:34 AM EST