WND Embraces 'Great Reset' Conspiracy-Mongering
Topic: WorldNetDaily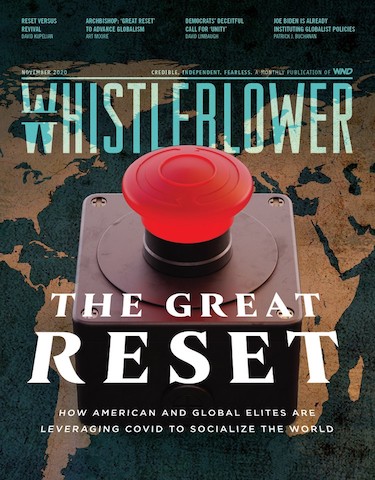 The idea of a "Great Reset" was tailor-made to be turned into a conspiracy theory. Devised by the World Economic Forum -- the folks behind the annual meeting of the world's elites at Davos, Switzerland -- as a plan to restart the world's economy after the coronavirus pandemic that writer Naomi Klein described as containing "some good stuff that won't happen and some bad stuff that certainly will and, frankly, nothing out of the ordinary in our era of 'green' billionaires readying rockets for Mars. Indeed, anyone with even a cursory knowledge of Davos speak, and the number of times it has attempted to rebrand capitalism as a slightly buggy poverty alleviation and ecological restoration program, will recognize the vintage champagne in this online carafe."
Needless to say, WorldNetDaily glommed onto this. An entire issue of its sparsely read Whistleblower magazine was devoted to this, and the promotional blurb fully went there:
The first and most pivotal phase of the Great Reset plan under cover of COVID is, of course, winning the 2020 presidential election through a dizzyingly multifaceted attack on the integrity of the U.S. election system itself, in conjunction with a unified campaign by Big Media and Big Tech to elect Joe Biden at all costs.

Biden is fully on board with the "Great Reset." In fact, the Biden presidential campaign chose as its official campaign slogan the seemingly innocuous phrase, "Build Back Better," which happens also to be the slogan of the "Great Reset" coined by its originator and main advocate, World Economic Forum founder Klaus Schwab.

Under cover of the COVID-19 pandemic, Schwab insists the entire world must "act jointly and swiftly to revamp all aspects of our societies and economies," meaning, as he explains, "we need a 'Great Reset' of capitalism." In other words, socialism.

[...]

Prince Charles is a key advocate for the Great Reset, as is International Monetary Fund chief economist Gina Gopinath, U.N. Secretary General António Guterres, as well as heads of many major corporations, including Microsoft.

[...]

Unfortunately, as Whistleblower shows, the world's elites do not really want equality for everybody. Historically, from Stalin to Mao to Chavez, Marxist/socialist leaders have never been truly interested in everyone being equal. That's just happy-talk to seduce the masses. What they want, first and foremost, is power, they want wealth and privilege for themselves, they want glory, they want revenge on their enemies, and they want worship.

"In a word," writes Whistleblower Editor David Kupelian, "they want to be gods. The original temptation in the Garden of Eden was, 'Ye shall be as gods.' (Genesis 3:5) But when humans try to become gods, they turn into devils. And the agenda planned by these would-be rulers is both insane and evil."
Kupelian went even further in his essay from the issue from which the promotion blurb was adapted, which started by ranting about events from "Big Media openly siding with the senile and corrupt Joe Biden while portraying President Donald Trump as a mentally ill, racist would-be dictator, to November's breathtakingly rigged election – likely the most crooked and corrupt in our history." And since China is the right-wing bogeyman du jour, he ranted about how the Chinese want to put a barcode on everybody:
Since the coronavirus originated in China, and since Joe Biden is profoundly compromised with regard to China because of his family's corrupt financial activities with that nation, and since Big Tech and so many U.S.-based mega-companies are in total thrall to China both for its vast retail markets and its cheap labor pool, it is reasonable to wonder: How exactly does China fit into the plan to "reset" the world under cover of COVID?

That's easy: China is the leader.

Recently, in a chilling story headlined "Give Everyone a Barcode? China Trying to Use COVID Fears to Launch Global Tracking System for Humans," the Christian Broadcast Network reported: "China's communist leader Xi Jinping is calling for countries across the world to accept a global COVID-19 tracking system that uses QR codes in an attempt to expedite international travel."
It was during a Nov. 21 virtual G20 leaders' meeting that Xi proposed the "global mechanism" to deploy an electronic barcode that would help determine travelers' health status.
Kupelian went on to reference the Biblical "mark of the devil" stuff, of course. And he concluded by declaring that "America indeed needs a great reset, but not one envisioned by deluded, power-obsessed, sociopathic elites. Rather, the reset we truly need is a repentance-fueled revival that will invite God's renewed blessing on us and restore our nation to its former greatness and goodness."
Posted by Terry K. at 1:27 PM EST