MRC's Mysterious Sports Blogger Melts Down Over Super Bowl Halftime Show
Topic: Media Research Center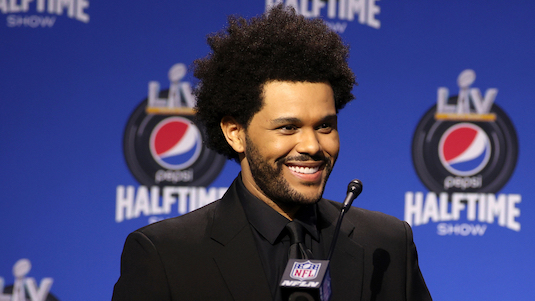 The Media Research Center 's mysterious MRC sports blogger, Jay Maxson, loves to freak out over Super Bowl halftime shows. So when The Weeknd was announced as the lead entertainer for this year's Super Bowl, Maxson went into full meltdown mode:
It's official. The entertainer known as The Weeknd will provide the substandard gutter garbage, sexually explicit, vulgar rot. We're not talking about MTV or even the Grammy Awards here. He's actually the NFL's pathetic choice to headline the 2021 Super Bowl halftime show.

Abel Makkonen Tesfaye (seen in photo), a Canadian who passes as a so-called entertainer and who goes by The Weeknd moniker, has been chosen by The NFL, Pepsi and Roc Nation to keep the bar lower than low for this year's Super Bowl halftime disgrace.

During the recent CBS broadcast of an NFL game, shameless studio host James Brown delivered this "exciting news" to a world waiting for the identity of the next Super Bowl embarrassment, Feb. 7 in Tampa. Family entertainment, it's not. Not even close.
Maxson cied only obscure "lowlife garbage" from early in The Weeknd's career. No mention of anything that more likely landed The Weeknd the gig -- songs like the non-vulgar "Blinding Lights," universally considered one of the best songs of 2020. But Maxson is not here to talk about an artist's work -- he/she's here to spew right-wing rants:
This ongoing parade of trash halftime shows aptly demonstrates the NFL's diminished capacity to provide "family entertainment" under Commissioner Roger Goodell's feeble "guidance." The halftime stage has become a showplace for an exposed breast, crotch-grabbing, pole-dancing, twerking, grinding, edited profanities and a dance salute to the murderous Black Panthers.

Atlanta in 2019 provided another low point in Super Bowl history. Travis Scott and Big Boi provided the vulgar, N-wording, women-denigrating rap with the full approval of the National Football League. And a book by Mike Freeman demonstrates that abusing women is no big thing to the NFL.
Meanwhile, in the real world, The Weeknd has vowed to "keep it PG" for his halftime show.
That's not the only Super Bowl-related meltdown Maxson has had. In a Jan. 26 post, he/she lost it when a sports writer brought up the despised name of Colin Kaepernick:
The Feb. 7 Super Bowl is shaping up as a tale of two great quarterbacks: Kansas City's young gunslinger Patrick Mahomes and Tampa Bay's old G.O.A.T. Tom Brady. Great as their legacies are, neither can compare to the one preferred by The New York Times writer Kurt Streeter – Colin Kaepernick.

Yes, sad to say, Kaepernick's notorious, undeserving name is snaking its way into media discussions about Super Bowl LV.

Kaepernick hasn't played in an NFL game for more than four years. His mediocre career is over and done with, but the NYT's Kurt Streeter is still an obsessive fanboy.

[...]

With an underwater career record of 28-30 as an NFL starter, Kaepernick isn't deserving of a lofty legacy for what he did on the field.
Maxson and the MRC have a serious complex about Kaepernick.
Posted by Terry K. at 8:28 PM EST