CNS Unemployment Coverage Distortion Watch, Shocked Into Reality Edition
Topic: CNSNews.com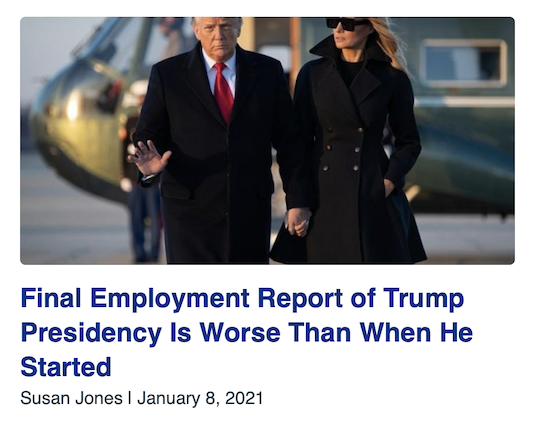 Another thing that appears to have gotten shocked into balance at CNSNews.com after the Trump-instigated Jan. 6 Capitol riot is its coverage of the unemployment numbers for the last full month of Donald Trump's presidency, which were released two days after the riot. Susan Jones served up the opposite of her usual pro-Trump rah-rah in her main article, which carried the unusually truthful (for CNS) headline "Final Employment Report of Trump Presidency Is Worse Than When He Started":
The final, lackluster jobs/employment report of Donald Trump's presidency shows the lingering effects of the year-long and continuing COVID pandemic.

The numbers released Friday by the Labor Department's Bureau of Labor Statistics are not as good as they have been under Donald Trump, nor are they better than they were when he took office in January 2017.

[...]

Total nonfarm payroll employment declined by 140,000 in December -- no job gains. According to BLS, the decline in payroll employment reflects the recent increase in coronavirus cases and efforts to contain the pandemic.
The only sidebar this time was the usual one by editor Terry Jeffrey cheering that "The number of people employed by government in the United States dropped from 22,679,000 in December 2019 to 21,401,000 in December 2020, a decline of 1,278,000." While Jeffrey typically cheers declines in government employment, the accompanying chart shows what Jeffrey couldn't quite say out loud: that the decrease was driven by the pandemic.
A surprisingly downbeat end for coverage that for much of the past four years was filled with so much Trump sycophancy.
Posted by Terry K. at 12:23 AM EST