CNS Still Uncritically Pushing Trump's Bogus Election Fraud Claims
Topic: CNSNews.com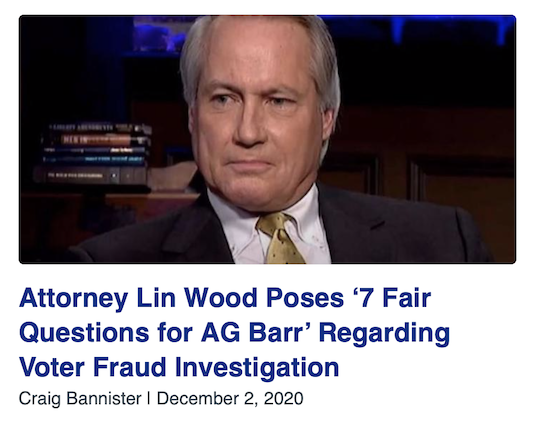 Susan Jones is not the only CNSNews.com writer who has been continuing to entertain President Trump's baseless claims of election fraud with barely a criticism.
Managing editor Michael W. Chapman used a Nov. 18 article to tout a poll claiming that "66% of Republicans believe that the Trump-Biden presidential race was 'not' a 'free and fair election.' In addition, 72% of all registered voters who thought the race was unfair think 'mail-in voting led to widespread vote fraud.'" Chapman did not mention the utter lack of evidence to support claims of "widespread vote fraud."
The next day, Melanie Arter claimed that "Trump attorney Sidney Powell, who is part of the legal team investigating allegations of voter fraud," had "laid out what she called 'the most unpatriotic acts I can even imagine' involving the Dominion voting system." In grand Arter tradition, it's all stenography, no fact-checking. On Nov. 20, Craig Bannister similarly regurgitated an anti-media rant from Trump attorney Jenna Ellis "regarding the campaign's election integrity lawsuits."
An anonymously written Nov. 18 article, meanwhile, was pure stenography: "Tom Fitton, president of the government watchdog group Judicial Watch, said in a statement that 'Joe Biden is not "president-elect"' despite what the liberal media claim, and they do not have the constitutional authority to declare the winner of a presidential election. ... On Election Day, President Trump had the votes to win the presidency. These vote totals were changed because of unprecedented and extraordinary counting after Election Day."
On Nov. 23, Chapman reported that "President Trump's personal attorney, Rudy Giuliani, said that lawyer Sidney Powell is "not part of the Trump Legal Team," and is "not a lawyer for the president" -- never mind that his reporter definitively described Powell as a part of the Trump legal team just four days earlier. He didn't mention that, nor did he explain exactly why the Trump campaign distanced itself from Powell: increasingly unhinged claims of election fraud. Instead, Chapman repeated "conservative talk-radio host and constitutional scholar Mark Levin" dubiously vouching for Powell.
Jones returned on Nov. 30 to eagerly report how Trump "expressed frustration on Sunday with the FBI and the Justice Department for apparently failing to investigate voter fraud and for failing to bring charges against former officials of those agencies." Like her colleagues, she censored the fact that no claims by the Trump campaign have held up in court thus far.
On Dec. 1, Arter reported how Attorney General William Barr said he had seen no evidence of widespread voting fraud; the next day, Bannister gave a platform to Trump-adjacent attorney L. Lin Wood to respond to Barr. Bannister was silent on the controversy involving Wood in Georgia in which he told voters not to take part in the Senate runoff that will determine control of the Senate. Arter also gave space to a rant on Fox News from White House press secretary Kayleigh McEnany that "Democrats have been trying to undermine the U.S. election system for years by allowing illegals on the voting rolls and fighting against signature matching."
However, there finally -- finally -- appeared to be evidence on the part of CNS to tell both sides of the story. A Dec. 1 article by Jones noted Republican state officials in Georgia defending the integrity of the election there and criticizing "the amount of misinformation that continues to flow"over the election. Of course, Jones won't admit that she and CNS are responsible for amplifying such misinformation. On Dec. 3, Jones quoted Republican Sen. Lindsey Graham urging Georgia voters to vote in the Senate runoff despite what Powell and Wood had said. And on Dec. 7, Jones quoted another Georgia state official, a Republican, pointing out that any vote fraud uncovered in the state so far is minor and won't affect the election result.
In between, however, Jones did a total stenography job on the "46-minute videotaped message he posted directly to Facebook, bypassing the hostile White House press corps," in which he made numerous unsupported claims of election fraud. She framed those pointing out Trump's falsehoods not as speaking truth but, rather, coming from "the partisan Democrat media":
Notably, the speech was not well-received by the partisan Democrat media. Trump predicted this, saying, " Even what I'm saying now will be demeaned and disparaged, but that's OK. I just keep on going forward because I'm representing 74 million people and in fact, I'm also representing all of the people that didn't vote for me."

Indeed, CNN refused to play any of Trump's speech, calling it "lies" and "propaganda." And here are the Thursday morning headlines from two major newspapers:

"Trump, in White House Video, Delivers Falsehood-Filled Diatribe" (New York Times online edition); "Trump escalates baseless attacks on election with a 46-minute video rant" (Washington Post online edition).
Jones did not explain why the media's judgment could not be trusted, nor did she link to any fact-check of Trump. Instead, she transcribed the entirety of Trump's rant -- which, of course, is more CNS' speed as loyal pro-Trump sycophants.
Posted by Terry K. at 12:51 AM EST
Updated: Tuesday, December 8, 2020 7:17 PM EST