MRC Tries To Dismiss Revealed Identity of 'Anonymous' Author
Topic: Media Research Center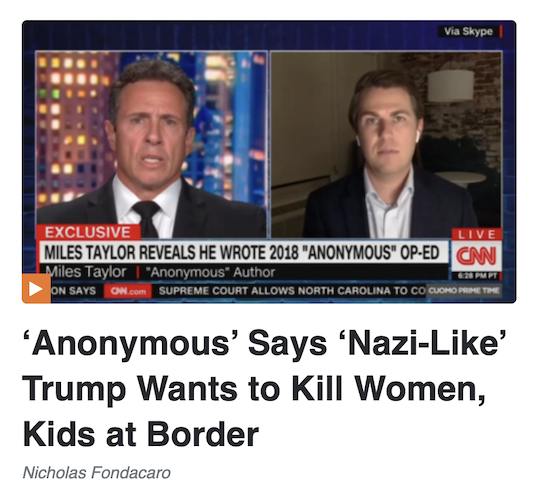 When the New York Times published a 2018 op-ed by anonymous Trump administration senior official who claimed he was part of a group in the White House keeping President Trump from acting on his worst instincts, the Media Research Center hated it. Nicholas Fondacaro whined that the author "pompously painted them self as part of a secret, superhero-like team in the White House keeping the wildly unstable President from harming us all," Kyle Drennen cheered how Megyn Kelly "blasted the article for trying to 'subvert the President' and 'dripping with sanctimony,'" and Jeffrey Lord argued that the Times was "a Deep State co-conspirator against a sitting President of the United States" for publishing a "self-righteous idiot."
A few days before the election, the anonymous author revealed himself as Miles Taylor, then the deputy chief of staff (and later chief of staff) to then-Homeland Security Secretary Kirstjen Nielsen. Unsurprisingly, the MRC cranked out a bunch of posts on that too.
Fondcaro returned to whine some more, insisting that Taylor's original allegations against Trump were "unsubstantiated," that he was a "serial liar" since he denied he was Anonymous, and that his first interview after revealing himself "was filled with unsupported accusations of 'Nazi-like' policies and delusions of grandeur with comparisons to the authors of the Federalist Papers."
Rich Noyes insisted Taylor was a "nobody" and a "low-level flunkie." Kayla Sargent complained that Taylor later took a job at Google, "as if we needed any more proof of Google's leftist leanings." Joseph Norris groused that "the timing of this announcement was suspicious. Instead of reprimanding him for having lied to CNN on-air about whether he was Anonymous, they've brought Taylor on to further bash Trump," adding that during an interview CNN "did not ask for evidence of the allegations, documents, conversations, or witnesses to bolster his claims about the President." Curtis Houck sneered that Taylor "became 2020's media equivalent of Al Capone's vault."
Tim Graham quickly cranked out a column calling the Taylor reveal an attempt by the media to distract from Hunter Biden's alleged scandal, denigrated him as "someone barely old enough to be elected to the Senate," huffed that his anonymity was a "smelly veil" and complained that the book Taylor wrote wasn't given away: "Taylor's publisher, Hachette, churned out a first print run of 500,000 copies. Such public-spirited anonymity was going to make some people a tidy profit."
But none of Taylor's MRC detractors offered any evidence that Taylor was wrong, which is really all you need to know -- and which is why Noyes returned to attack the Times for originally describing Taylor as a "senior administration official," huffing that it used "those magic words to confer a sense of knowledge and authority on its otherwise anonymous sources who may hold a position few would consider 'senior.'" He further complained that "A Nexis search of Times articles shows the phrase 'senior administration official' or 'senior White House official' was used 1,104 times from January 20, 2017 through October 29, 2020."
Noyes didn't tell you that his employer has a wildly inconsistent record on the use of anonymous sources.
Posted by Terry K. at 9:51 PM EST
Updated: Sunday, November 8, 2020 9:57 PM EST