MRC Tries To Push Biden Conspiracy Theory
Topic: Media Research Center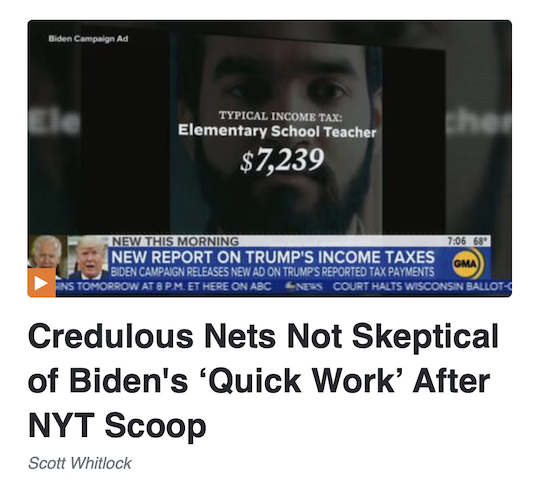 The Media Research Center's Scott Whitlock used a Sept. 28 post to express sadness that the media won't buy into his conspiracy theory that the the Biden campaign worked with the New York Times on its expose on President Trump's taxes so that it could quickly put up an ad about it:
Journalists like to think of themselves as skeptical types who are always asking questions. But when theNew York Times on Sunday claimed to have acquired Donald Trump's taxes and, just hours later, the Biden campaign had a corresponding campaign ad out, the networks didn't seem cynical.

According to the Times, the President paid only $750 in taxes in 2016 and 2017. CBS This Morning reporter Ed O'Keefe on Monday marveled, "Within hours of The New York Times report, the Biden campaign was out with a new ad contrasting the tax burden of average working Americans with the $750 in income tax the President paid. And they're also out with new campaign buttons that read 'I paid more income taxes than Donald Trump.'" O'Keefe credulously cheered, " Quick work there by the Biden campaign."

[...]

Given how journalists jump on promoting all sorts of liberal theories about Republicans, isn't at least a little skepticism warranted at just how coordinated the Times story seems to be with the Biden campaign.
Never mind, of course, that Whitlock offers no evidence whatsoever of coordination, thus making this a pure conspiracy theory; the Times has debunked the conspiracy, but Whitlock didn't think that was relevant to his piece. Further, there are software programs that promise to teach you how to make a video ad in minutes, so it shouldn't be surprising that the Biden campaign turned one around so quickly.
The MRC does have a bad habit of embracing conspiracy theories when thinks it it suits its right-wing political agenda to do so
Posted by Terry K. at 2:29 PM EDT
Updated: Monday, October 12, 2020 6:59 PM EDT