Hypocritical MRC Writer Censors Facts To Attack His Target For Criticizing Trump
Topic: Media Research Center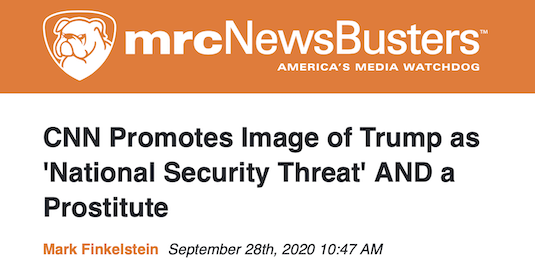 Mark Finkelstein began his Sept. 28 NewsBusters post by noting the line "I have always depended on the kindness of strangers," then adding:
That was the iconic line in the famous play (and movie) by Tennessee Williams, by which poor Blanche effectively admitted to having lived a life of prostitution. So when Tim O'Brien used that same line about Donald Trump, you know he was doing it with malice aforethought, and with the unmistakable goal of making the same insinuation against the president.

O'Brien uttered his insult during his appearance this morning on CNN's New Day. O'Brien was touted as the author of the book Trump Nation that claimed Trump was misleading voters by claiming to be a billionaire. (Trump sued him.)
First: Trump being described as a prostitute is an odd thing for Finkelstein to get offended by, given that just two days later ,his perpetually outraged MRC colleague Nicholas Fondacaro described people employed by the Disney corporation as "WHORES." We don't recall Finkelstein getting particlarly bent out of shape over that.
Second: Finkelstein curiously failed to mention the outcome of Trump's lawsuit against O'Brien: he lost.
In his book, O'Brien argued that Trump was actually worth between $150 million and $250 million, not the billions he has claimed to be. Trump sued O'Brien for a whopping $5 billion, claiming that O'Brien relying on anonymous sources to back up his claim could rise to the actual malice standard needed for public figures to prevail in a libel suit. But Trump was so unprepared for his deposition by O'Brien's lawyers that he touted a document showing his assets and liabilities despite it also declaring that it wasn't a reliable gauge of his wealth. Trump also said that his sense of financial worth on a given day depends on his feelings that day, and he supplied no reliable information to back up his own claims about his net worth.
To sum up: Finkelstein was not only hypocritical, he hid factual information because it made his target look better and Trump look bad. Par for the MRC course, we'd say.
Posted by Terry K. at 10:25 PM EDT