CNS Hypes Trump's Nobel Peace Prize Nomination
Topic: CNSNews.com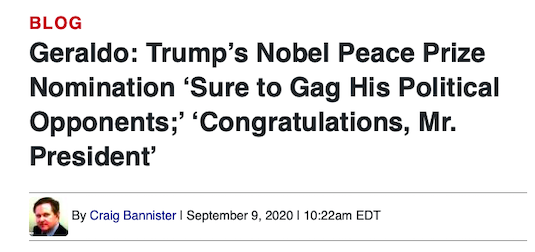 The Media Research Center may have complained that President Trump's dubious Nobel Peace Prize nomination didn't get the coverage it demanded, but its "news" division, CNSNews.com, was actively promoting it.
The first article CNS did on it was a Sept.9 item by Craig Bannister highlighting Fox News commentator Geraldo Rivera in his "daily twitter video" gushing at the own-the-libs aspect of the nomination. Bannister falsely claimed that the Norwegian lawmaker is "a populist Progressive Party lawmaker"; in fact, he belongs to the Progress Party, which is a right-wing party.
The next day, Patrick Goodenough noted that "A Norwegian lawmaker said Wednesday he was nominating Trump for the 2021 Nobel peace prize, citing his role in achieving the Israel-UAE agreement." He didn't note that the lawmaker is a right-winger, but shilled for the president by stating that "Mideast peace efforts have garnered the Nobel peace prize before." Goodenough repeated the Nobel reference in another article.
Bannister returned to gush that White House Press Secretary Kayleigh McEnany touted how "the Nobel Peace Prize nomination for the president, two of them: very well deserved."CNS then sent an intern out to pester a Republican congressman with a softball question:
When asked if he believes President Donald Trump should receive the Nobel Peace Prize for his work on normalizing relations between previously adversarial nations, House Minority Leader Kevin McCarthy (R-Calif.) said yes, the president deserved the peace prize. McCarthy added that it was Trump's new approach to the conflicts that brought the peace deals to a closure.

At the U.S. Capitol on Thursday, CNS News asked Rep. McCarthy, "President Trump has been nominated for two Noble Peace Prizes -- one for Israel-UAE, one for Serbia-Kosovo, do you think he is deserving of these awards?"
When Trump got a third nomination, Melanie Arter was there to fluff it:
President Donald Trump received his third Nobel Peace Prize nomination by a group of Australian law professors on the basis of the "Trump Doctrine" on foreign policy, Newsweek reported.

"The Trump Doctrine is something extraordinary, as so many things that Donald Trump does. He is guided by two things, which seem to be absent from so many politicians. He has firstly common sense and he is only guided by a national interest, and therefore, in our circumstances, an interest in the Western alliance," law professor David Flint told Sky News in explaining why he decided to nominate Trump.
Arter censored the fact that Flint is a right-winger who wants to restore the monarchy to Australia.
Despite all this fluffing and lobbying for Trump, when the actual winner of the Peace Prize turned out to the World Food Programme, CNS couldn't be bothered to report on that.
Posted by Terry K. at 11:52 AM EDT
Updated: Sunday, October 11, 2020 8:59 PM EDT