MRC Embraces Anti-Vaxxers To Own The Libs, Or Something
Topic: Media Research Center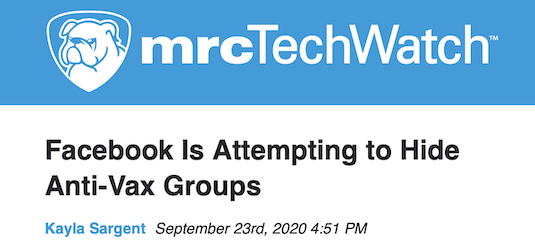 The Media Research Center just can't stop embracing fringe-right causes to advance its bogus narrative that social media is unique discriminating against conservatives. Kayla Sargent actually wrote this in a Sept. 23 post:
Regardless of your stance on vaccination, hiding information about anti-vaccine groups and content probably doesn't help anyone.

ZDNet, an Australian news website, reported that Facebook is attempting to hide what it deems "vaccine misinformation" from users.

Facebook recently submitted a report to the Australian Senate Select Committee on Foreign Interference through Social Media. In the report, Facebook stated that it is "taking a range of steps to make anti-vaccination misinformation harder to find and to elevate authoritative information about vaccines … ."
Yes, Sargent actually wrote that giving anti-vaxxers a platform is a good thing. (Also, ZDNet is not "an Australilan news site"; it's a U.S-based tech news operation owned by CBS.)
Sargent then tried to both-sides anti-vaxxers, but undermined it by rehashing its bogus narrative:
The anti-vax movement exists on both the far right and the far left. The Washington Post noted that there were several prominent anti-vax individuals, including Andrew Wakefield and Robert F. Kennedy, Jr.
Facebook, in recent months, has attempted to crack down hard on "misinformation," but its attempts have often resulted in the censorship of conservative voices.
Meanwhile, the MRC is still fretting about QAnon conspiracy theorists getting shut down on social media. An Oct. 7 post by Alexander Hall went the whataboutism route:
Facebook has been cracking down on conspiracy theorists while allowing groups that organize and share content in apparent conflict with Facebook's policies. That means QAnon is gone but Antifa is still allowed.

Facebook previously established policies in August "that barred QAnon groups that called for violence," The New York Times summarized, but this wasn't enough for liberal news outlets pressuring Facebook. The Times illustrated that since then, "Facebook acknowledged that its previous policies had not gone far enough" in an October 6 update.

[...]

While liberals panic about people sharing conspiracy theories, extreme left-wing groups are using Facebook to organize civil unrest.
Among Hall's examples of "civil unrest" were "far-left Canadian organization Adbusters" allegedly undertaking "foreign political interference" and that "Facebook allowed activists to organize on the platform to harass sitting U.S. Senator Lindsey Graham (R-SC) at his purported home address about how he intends to vote concerning a replacement for deceased Justice Ruth Bader Ginsburg on the U.S. Supreme Court."
Posted by Terry K. at 12:39 PM EDT
Updated: Friday, October 9, 2020 2:52 PM EDT