Wacky MRC Tries To Portray Harris As Anti-Vaccine
Topic: Media Research Center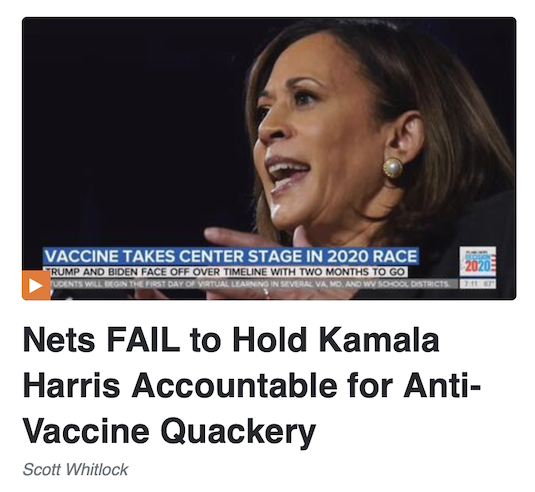 The Media Research Center's failed microagressions against Joe Biden have spread to his running mate, Kamala Harris. Scott Whitlock ranted in a Sept. 8 post that Harris is somehow an "anti-vaxxer":
The media love to mock conservatives and Republicans as kooks who are prone to all sorts of conspiracy theories. Yet Democratic vice presidential nominee Kamala Harris is sounding like the most extreme anti-vaxxerand journalists are trying to give her a pass. The three networks on Tuesday downplayed or offered no critique of her attempts to turn Americans against a COVID vaccine.

On Good Morning America, Cecilia Vega highlighted a "Trump administration vaccine" and played a clip of Harris spouting conspiracy theories about the completion of one: "It would have to be a credible source of information that talks about the efficacy and the reliability of whatever he's talking about. I will not take his word for it."

Vega offered no objection to this silly image of Dr. Trump on the White House lawn with viles and beakers, encouraging people to take something that he personally came up with.
Whitlock is simply lying to you -- at no point did Harris ever suggest Trump "personally came up with" a vaccine. She merely pointed out an inconvenient fact Whitlock would rather keep censored: Nobody trusts Trump's word on anything. In a link on the words "extreme anti-vaxxer," Whitlock referenced a Hill article that, in addition to Harris' comments, highlighted a poll finding that only 14 percent of respondents would get a coronavirus vaccine if Trump recommended it, compared with 46 percent who'd take one on the advice of their family and 43 percent who would on the advice of the CDC or Anthony Fauci, the nation's leading infectious disease expert.Indeed, Trump has been extravagantly promising that a vaccine will appear before election day, which further raises public concerns.
Instead, Whitlock ranted that "the vice presidential nominee of one of the two main parties is pushing unproven conspiracy theories," dishonestly adding: "If people don't take a vaccine because the Democrats want to deny Donald Trump a win, Americans could die. But apparently that doesn't matter to ABC, CBS and NBC."
Indeed, since the MRC is the media arm of the trump campaign and will hide or spin any negative news about him lest it hurt his re-election chances, it continued to blame everyone by Trump for the fact that nobody trusts him. Kyle Drennen wrote in a Sept. 11 post:
After repeatedly sowing fear and doubt about a potential COVID-19 vaccine in an effort to undermine President Trump's handling of the pandemic, on Friday, NBC's Today show was suddenly concerned by a new poll showing that many Americans would not trust a vaccine developed under the Trump administration. Of course rather than blame themselves for politicizing the vital medical research, the network hacks instead rushed to blame the President once again.

During a report early in the 7:00 a.m. ET hour, correspondent Tom Costello warned of "new evidence that the public's trust has been shaken." He then touted a new poll from a left-leaning group:
As with its insistence that Biden is an "extreme" "radical," the only reason Drennen sees the issuer of the poll, the Kaiser Family Foundation, as a "left-leaning group" is because the MRC is so far right. Outside the MRC's right-wing bubble, it's a highly credible group on medical and health issues.
Drenne went into shoot-the-messenger mode, referencing Whitlock's wacky post:
In reality, the hosts and correspondent at NBC need look no further than their own reporting if they want to know why people are so distrustful of any potential vaccine. Just over the past three days, the morning show has routinely suggested without evidence that Trump would somehow force a vaccine to be approved prematurely to help his political chances in November's election:
In fact, on Tuesday, all three network morning shows touted the Biden-Harris campaign sounding like anti-vaxxer conspiracy theorists as it tried to exploit the health crisis to smear the President. There was no challenge or fact-check of the irresponsible quackery.
A Sept. 17 post by Kristine Marsh also went into shoot-the-messenger mode:
The media is so desperate to get President Trump out of office they are actually willing to scare vulnerable Americans into not taking a vaccine that could save their lives. Earlier this month, the big three networks touted Kamala Harris warning Americans not to trust Trump with a vaccine. Yesterday, Biden came out with his own dangerous message telling Americans to not take any vaccine that comes out while Trump's in office.

Good Morning America Thursday, White House correspondent Cecilia Vega and anchor George Stephanopoulos spent a good deal of time deflecting blame from the Democrat ticket sowing fear about a COVID vaccine to project it was actually being "politicized" by President Trump.

[...]

Stephanopoulos openly floated the left's anti-science conspiracy that President Trump was somehow involved in compromising the safety of the vaccine.
Marsh offered no proof that Trump wasn't interfering in the vaccine development process, and she censored the fact that he promised a vaccine by Election Day.
Nicholas Fondacaro did much the same thing in a post the same day, with additional lying about what Harris has actually said:
In recent days, the liberal media have dedicated a lot of effort into stoking fear the coronavirus vaccines being developed by multiple pharmaceutical companies under the Trump administration's Operation Warp Speed, which put the full weight of the U.S. government behind developing and distributing a safe and effective vaccine. Of course, they were taking their cues from the Biden campaign and Senator Kamala Harris (D-CA), who said last week she "would not trust" a vaccine developed under President Trump.

But during a taped interview with CBS Evening News anchor Norah O'Donnell, which aired Thursday evening, Moderna president Dr. Stephen Hoge shot down their coordinated fear-mongering by admitting he was NOT feeling political pressure.

[...]

Now, despite Hoge's admission of feeling no political pressure from the White House, the liberal media will likely still stoke fear of the vaccine and blame Trump for polls showing a lack of trust in the vaccine.
No, Nick, Harris did not say she "would not trust" a vaccine developed under President Trump; she said that she would trust it if someone more credible were vouching for it. But then, we know Fondacaro is a documented liar.
Posted by Terry K. at 7:19 PM EDT