Pelosi Goes To A Salon, And CNS Is ON IT
Topic: CNSNews.com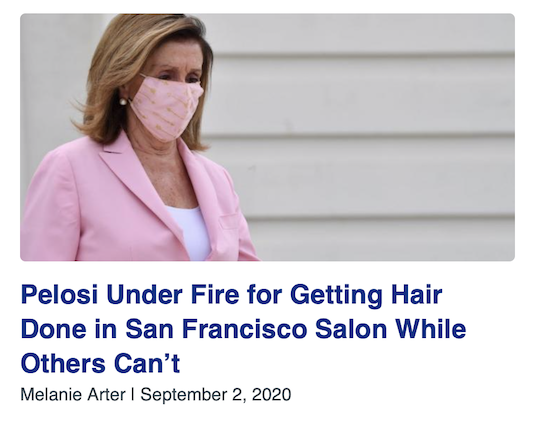 We've documented how CNSNews.com loves to pile on when a Democratic politician does something it doesn't like -- but gives Republicans a pass for similar behavior. Well, it piled on again against one of its favorite targets, Nancy Pelosi.
When Pelosi was found to have visited a hair salon in San Francisco in apparent violation of the city's COVID-19 restrictions, CNS cranked out a whopping five bylined articles (by Melanie Arter and Craig Bannister) in two days taking potshots at her over it:
After a break for the long Labor Day holiday weekend, CNS returned with two more articles, both by Bannister:
Yet CNS wasn't done flogging this story. A Sept. 17 article by Bannister touted how White House press secretary Kayleigh McEnany sneered that Pelosi thinks the Israel peace agreements President Trump claimed to have a role in were "a distraction from her visits to the hair salon" -- a statement Bannister put in the headline of his piece. And a Sept. 21 column by CNS' favorite dishonest Catholic, Bill Donohue, ranted that "Pelosi gets her hair done at an indoor salon, violating the same law she says applies to everyone else" while restrictions remain in California on going to church. Apparently Donohue has never heard of the concept that a church is the congregation, not the building.
That's eight "news" articles and an opinion column making a big deal of this. By contrast, according to a search of the CNS archive, it published no news articles on the unflattering book about Trump written by his cousin, Mary Trump, nor about a similarly unflattering book by Trump's former lawyer, Michael Cohen.
Consider this yet another violaton of CNS' mission statement in which it promised to "fairly present all legitimate sides of a story."
Posted by Terry K. at 12:51 AM EDT