Trump Stenographers: MRC Denies Biden Is a Moderate
Topic: Media Research Center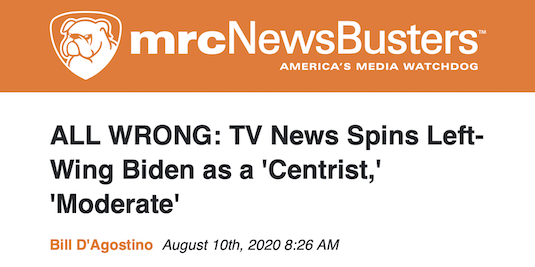 It's indisputable that the Media Research Center is the media arm of the Trump campaign and, thus, its aggressively biased "media reserarch" can't be trusted. One of the many ways it has performed this service is by attacking anyone who delcares Joe Biden to be a moderate -- because from its right-wing pro-Trump perspective, there are no moderates, and anyone even slightly more liberal than them is without question a far-left extremist of some kind.
Mark Finkelstein, for instance, complained in a July 17 post:
If the Democrats nominated Karl Marx, they'd describe him as a "moderate Marxist" . . .

It's SOP for the Democrats and the liberal media: they invariably try to peddle their presidential candidates as "moderates" or "centrists."

But on today's Morning Joe, MSNBC's John Heilemann took things an absurd step further, actually describing Biden as "culturally conservative." That, of course, is baldfaced balderdash.
Finkelstein went on to present as evidence of Biden's purported extremism the ratings of him from various political interest groups, which gave him either 100% or 90% depending on their political persuasion. But such ratings are dubious as an objective method for evaluating politicians, since they're usually based on roll call votes on selected issues, not a politician's entire record.
A July 21 post by Duncan Schroeder huffed: "The idea of Biden being a moderate is a joke. Biden just created his policy platform with the help of far-left, communism-loving Bernie Sanders. Sanders even said that Biden might be the 'most progressive president since FDR.' Among many radical proposals, Biden plans to spend $2 trillion on fighting climate change, transition all Americans to electric cars by 2035, and to raise taxes by $4 trillion. Biden also said that the police have 'become the enemy.'"
Schroeder repeated his attack in an Aug. 6 post, smearing media people making the claim as "propaganists" (as if Schroeder isn't one himself).
Bill D'Agostino devoted an entire Aug. 10 post to ranting against the idea:
TV journalists have insisted throughout the 2020 election cycle that Democratic Presidential hopeful Joe Biden represents the "moderate," "centrist" wing of his party, with some even worrying that his agenda might be too far to the right for his party's progressive base to stomach. Yet not even Biden himself agrees with that lame spin, having promised his administration would be among the "most progressive" in "American history."

[...]

Considering Biden's platform is indeed more "progressive" than that of any Democratic nominee in history, it is deceitful for the media to mislead audiences into believing he is a "centrist" or a "moderate."
An Aug. 11 post by Scott Whitlock spread the attack to Biden's running mate, Kamala Harris, citing a dubious interest group score, "Kamala Harris is the most liberal vice presidential nominee to ever be nominated. Her lifetime American Conservative Union Score (meaning the number of times she voted with conservatives as a Senator) is 3.03. In 2019 it was 0." Nicholas Fondacaro joined in the same day, ranting that "the liberal media will flood the zone with lies about who Harris was and what she has supported in the past in order to protect their 2020 presidential ticket," though "her radical policy positions were exposed" during CNN town halls.
Michael Dellano declared that the Biden-Harris ticket "is, in fact, a radical-left ticket. ... The leftist media wants Americans to think that Harris is a moderate, because her actual policy perspectives are not very palatable." He ranted the next day: "Every major media outlet have pushed this lie that Harris is some sort of moderate, when it has been widely known that she has supported far left policies. Some metrics stated that Harris is more radical than self-proclaimed socialist Senator Bernie Sanders." Kyel Drennen harrumphed that one commentator "kept pushing the lie that the leftist presidential ticket was just a couple of moderates."
Kristine Marsh grumbled on Aug. 19: "Despite ample evidence from the candidate's own mouth that he has embraced the radical-left wing of the Democrat party [sic], CNN's New Day tried to make the case Wednesday that Biden was someone who 'crosses the aisle.'"
A month later, Alex Christy was still pushing this same narrative: "Considering Biden's allies have also hyped the possibility of him being the most progressive president since Franklin Roosevelt, maybe the idea that he's 'more of a moderate' is badly sliced baloney."
As is the MRC's determination to do anti-Biden messaging on behalf of Trump. It's "media research" is a sham, in no small part because it has put advancing political narratives ahead of reporting facts, and it devises metrics designed to do exactly that (witness its bogus "evaluative statements" metric to measure "bias," an entirely subjective concept, and its refusal to make its raw data public). The MRC's depiction of Biden's political views as "extreme" or "radical" are not based on objective fact -- they're opinions based on, again, it being so far right that anything that is not also far right must be attacked as "far left" or extreme.
Again, keep in mind that the MRC is an arm of the Trump campaign -- which should be the lens through which everyone views what comes out of there right now -- and its deliberate dishonesty and spin makes sense.
Posted by Terry K. at 11:38 PM EDT
Updated: Friday, January 1, 2021 9:47 PM EST