Libel: Newsmax Columnist Wildly Accuses Judge Of Murdering Her Husband
Topic: Newsmax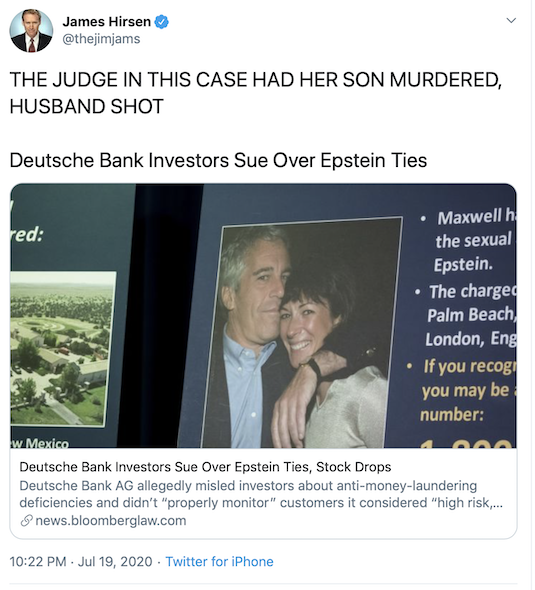 In a July 19 tweet, Newsmax columnist James Hirsen highlighted a Bloomberg Law article about a case in which a bank is being sued over allegations that it didn't properly monitor high-risk customers such as Jeffrey Epstein. To that he added in all caps: "THE JUDGE IN THIS CASE HAD HER SON MURDERED, HUSBAND SHOT."
On Sunday, a man dressed as a delivery driver entered the home of the judge in the case, Esther Salas, with a gun, killing her son and wounding her husband. Authorities apparently offered no public evidence that Salasis a suspect in her son's death. Indeed, earlier today, a suspect in the shooting was later found dead of an apparent self-infliced gunshot wound; he was an attorney who had a case before the judge a few years ago.
It appears that Hirsen has committed libel by making a statement he knew or should have known was false. He has presented no evidence Salas is involved in this incident, and it can be argued he was acting with malicious intent, perhaps because Salas was appointed to her current federal judgeship by Presient Obama in 2015. While this story is continuing to develop, it's not looking good for Hirsen right now.
Hirsen claims to be a lawyer, so you'd think he would know better and how not to violate established libel law. Apparently not.
UPDATE: The alleged deceased suspect is Roy Den Hollander, an anti-feminist "men's rights activist" who was an attorney and had a case pending before Salas.
Newsmax has also published an article on the incident and noting the suspect's death. No mention was made of its columnist's apparently false accusation that Salas was behind it.
Posted by Terry K. at 1:18 PM EDT
Updated: Monday, July 20, 2020 3:52 PM EDT