Groupthink At MRC: If You Didn't Like Trump's Mt. Rushmore Speech, You Hate America
Topic: Media Research Center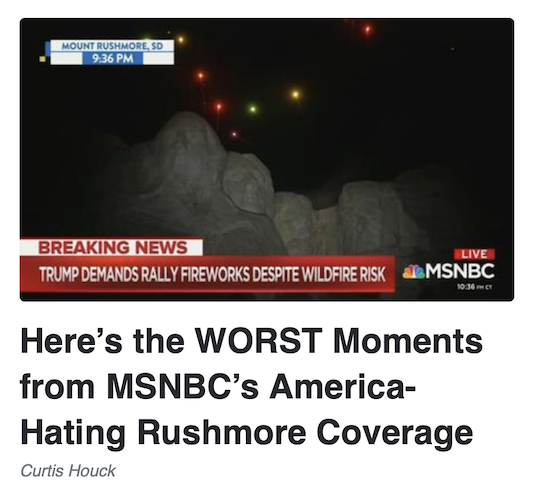 The Media Research Center's Bill D'Agostino and Curtis Houck provided the only acceptable interpretation of Trump's pre-July 4 speech at Mount Rushmore: "On Friday night, President Trump began the Fourth of July weekend with a 42-minute speech celebrating American history, our Founding documents, and patriotism at Mount Rushmore." If you're a media outlet that didn't interpret Trump's speech the way D'Atostino and Houck demand, the MRC smeared you has an America-hater.
This is not an exaggeration. Houck lashed out this way at MSNBC -- in a post literally calling the network "America-hating" in the headline -- for failing to treat Trump's speech with pro-Trump rah-rah:
MSNBC debased itself Friday night with a vile display of hatred for America, the Constitution (except the freedom of the press), the Declaration of Independence, the Founding Fathers, and positive celebrations of both where the country has been and where we hope to go."

Led by The Beat host Ari Melber, it was a despicable 103 minutes of venom for President Trump's speech at Mount Rushmore and filled with calls to go beyond Confederate statues and "cancel" the Founders from American history and convince people that not only was America never "great," but its ideals of equality and freedom have always been "a myth." Rather, America has been and continues to be one of "white supremacy."
Houck's selective quoting -- which he strangely chose to emphasize with his random bolding -- tells us that he's probably not telling the truth but, rather, applying his own right-wing distortions to what was said.For instance: Houck's rant that somebody said that "not only was America never 'great,' but its ideals of equality and freedom have always been 'a myth'" appears to have come from a statement from analyst Yamiche Alcindor that "there's really a myth of America that this idea that America treated people well, that they treated men and women equally, that --- that we founded this country just by our own wits, that that is actually a lie and we're seeing a celebration of America's independence on land that was stolen from Native Americans."
Houck never disputed the accuracy of what was said on MSNBC; he merely flew into a rage that it was said.
D'Agostino and Houck similarly ranted that "CNN and MSNBC chose to declare [the speech] 'a culture war bonfire,' 'a love letter to white supremacy,' 'divisive,' and laden with 'racist dog whistles.'" Again, they never dis prove those interpretations; they just descend into name-calling, describing the coverage as "farcical and yet hateful" as well as "drivel."
The closest they came was complaining: "As usual, talking heads were quick to suggest that Trump was defending Confederate monuments specifically -- despite his making no mention of either the former Confederacy or any of its members." The duo pretend there's no such thing as context, omitting the fact that Trump did, in fact, defend Confederate statues a few days before the speech. They also gloss over the fact that Trump "making no mention of either the former Confederacy or any of its members" also means they were not specifically excluded from his statue defense.
Houck even thinks you hate America if you don't give Trump an uninterrupted propaganda opportunity in an election year by choosing not to air a Friday night speech. He ranted that "CNN and MSNBC put on display their hatred for America by either completely ignoring or barely covering," specifically attacking MSNBC "host Ari Melber and his panel of America-trashing, far-left journalistic hacks." Rich Noyes served up a companion "flashback" post mining old claims that purport to describe "buckets of leftist media contempt for America's Founders and ideals."
Tim Graham also pretended there was no context to interpreting Trump's speech in a July 5 post ranting against the Washington Post pointing out Trump's "racial animus": "If you read the actual speech, it's not a racist speech. Trump quoted Martin Luther King and credited Lincoln for 'extinguishing the evil of slavery.'"
Houck gushed even further over Trump's speech in a July 6 post, giddy that he parroted the MRC's narrative by attacking the media:
A day after a stirring speech at Mount Rushmore, the liberal media reacted to by spewing hate, lies, and venom. President Donald Trump spoke Saturday night from the White House and called out them out for "falsely and consistently label[ing] their opponents as racists" and declared that their attacks on America as racist "slander" those who've fought and died for the country.

ABC, MSNBC The New York Times, and to name a few wildly distorted Trump's Friday remarks, so the President had enough and took nearly three and a half minutes to "say a word to those in the media who falsely and consistently label their opponents as racists, who condemn patriotic citizens who offer a clear and truthful defense of American unity."

[...]

Trump all but called liberal journalists cowards and wimps, insisting that those who've died for America are "much braver and more principled than you."

[...]

Seeing as how liberals have refused to back down on their hatred for this country, it's safe to say they refused to heed the President's advice and continue "slander[ing]" their fellow Americans who feel blessed to have been born in and live in the greatest country ever known to man.

For while many people believe America can do even better and its best days are yet to come, the far-left refuses to hold those two ideas in concert, instead demeaning this great land and people as irredeemable without a thorough reeducation.
As if Houck and the MRC aren't engaged in pro-Trump re-education.
Adam Burnett served up a like-minded post on July 6: "In an ongoing debate over America and our history, MSNBC has clearly picked a side. And they are not on the side of the American people." He fuirther ranted that Alcindor is "a radical activist disguised as PBS NewsHour's White House correspondent."
The MRC served up further attacks on anyone who failed to served as servile Trump stenographers:
Is there anything sillier than The New York Times in these Trump years calling anyone else's tone "dark and divisive"? ... This is where we are. Speaking up for America and her greatest presidents is a "divisive culture war message." As if the Times isn't waging war on Trump? -- Clay Waters, July 5, in a post headlined "NY Times HATE."
You want "divisive?" MSNBC is divisive. The vile Al Sharpton described President Trump's speech at Mount Rushmore as a "love letter to white supremacy."... Sharpton tied in the weeks of Black Lives Matter protests in order to push forward his agenda to make 2020 about race. He does not want Americans to look at historically low unemployment rates for African Americans, criminal justice reform, and historic funding to HBCUs<; instead Sharpton's goal is to label our founders and Trump as white supremacists to further divide us. -- Michael Dellanno, July 6
The media's deliberate misinterpretation of President Trump's Mount Rushmore speech as part of a pro-Confederate culture war continued on Monday's MSNBC Live as the Washington Post's Philip Rucker cited unnamed Republicans who fear that Trump is planting the party "on the wrong side of history." As Tim Graham noted, Rucker and Robert Costa wrote a nasty front-pager on Sunday shaming Republicans for not standing up to Trump's "culture war," as if Black Lives Matter and the statue-ripping squads aren't waging one. -- Alex Christy, July 7
By omitting the rest of the speech, with its mentions of Washington, Lincoln, Roosevelt and Jefferson, its proposed National Garden, and its denunciations of the radical left's attempts to erase history, Univision was able to reduce Trump's speech to COVID and Confederates, which fit the network's narrative. -- Jorge Bonilla, July 7
Graham capped things off with a July 8 column rehashing this narrative:
The Grand Canyon is a fitting metaphor for the difference between the uncensored version of President Trump's Independence Day speeches gleaned from live television and the feverishly distorted versions of the "reality-based press," as the leftist journo-braggarts call themselves.

Any American watching the live speeches would see positive and patriotic remarks, with some defiant words thrown in against the vandals who rip down statues and seek to "erase our history." But the "reporters" from our most pseudo-prestigious outlets, both print and broadcast, were churning out aggressive "news analysis," presenting two "dark and divisive" speeches with tiny little snippets that drain every carbonated fluid ounce of Fourth of July feeling out of the event.
Stated like a good pro-Trump, anti-media propagandist.
Posted by Terry K. at 8:02 PM EDT