Allen West's Empty Attack on the Great Society
Topic: CNSNews.com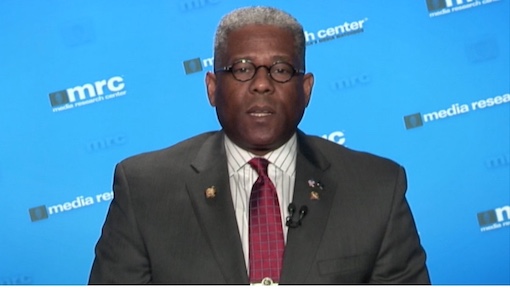 Allen West wrote in his June 15 CNSNews.com column:
The bottom line is simple: The Great Society – the grand endeavor of the progressive, racist President Lyndon Baines Johnson, has failed. Fifty-five years later, we are witnessing the -- shall I say it --"chickens coming home to roost."

The Great Society, also known as the infamous War on Poverty was launched as every other government top-down solution is, with great promise and "noble" intention. It was an updated version of Roosevelt's "chicken in every pot" solution.

What Johnson and his ilk believed was that they could manipulate the outcomes in the lives of individuals and create equality. They embraced the notion that the government could "level the playing field," and with a plethora of government subsistence programs, all would be well.

In reflection, we should all agree, and stop whistling past the graveyard, that this was a program intended to do one thing -- create economic enslavement, dependency.

The Great Society blunder has resulted in the modern-day 21st century economic plantation in which American inner-cities have absolutely cratered.
Strangely, at no point did West cite any specific program that purportedly created the failure he depicts. In fact, there's a solid argument that Great Society programs like Medicare and Head Start have been quite successful, as well as the fact that they weren't nearly as radical or extreme as West suggests they were.
Nevertheless, West insisted that "It does not take a PhD level study to grasp this," despite his freshman-level error of failing to back up his claims.
That, however, didn't stop WorldNetDaily columnist and ranter Mychal Massie from embracing West's claims in his own June 15 column:
The Great Society Initiatives were harmful to all, but no group was harmed more than blacks. Johnson's not so-veiled government dependency agenda cemented the decline of American civilization, specifically for blacks.

Within the Great Society construct came the abolishment of the nuclear family, accompanied by the reinvention of same to elevate and accommodate sexual sin. This now includes debaucherous sexual deviancy masquerading as a family unit.

The Great Society Initiative construct empowered government to define the needs of the people. Through the late 1960s and early/mid 1970s, women and specifically those who were black and Puerto Rican were rewarded for having children out-of-wedlock. Government provided subsidized housing, food stamps, health care and spending money. All they had to do was continue to have illegitimate children. The caveat was that in order to receive the financial government provisions there couldn't be a man in the house – this included the father of the children. I personally know women who were evicted from their apartment in the Projects because the night watchman caught the father in the apartment.
Like West, Massie fails to identify the specific programs he claims caused this, let along prove they were Great Society initiatives.
Posted by Terry K. at 5:32 PM EDT