CNS' Trump-Defending Reporter Goes The Whataboutism Route
Topic: CNSNews.com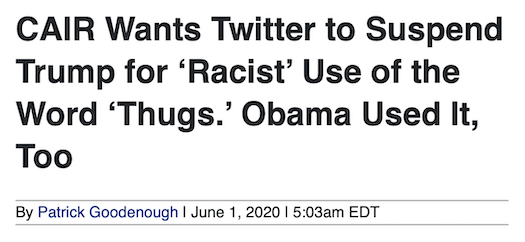 We've documented how CNSNews.com reporter Patric Goodenough has been slowly shedding his reputation as a decent reporter to become a pro-Trump shill like the rest of the rest of the CNS crew. He did that again in a June 1 article, which started by complaining that "The Council on American-Islamic Relations (CAIR) is demanding that Twitter suspend President Trump's 'racist' account, over his recent tweeted warning that looters exploiting protests sparked by the death of George Floyd risk being shot. CAIR based its charge that the warning amounted to a "racist threat of violence" on the fact that Trump used the word 'thugs' to describe those looting, vandalizing and torching businesses." Goodenough then went the whataboutism route:
Five years ago, President Obama used the same word in connection with those looting and destroying businesses in Baltimore, amid protests over the death of Freddie Gray, a 25-year-old black man who died of a spinal-cord injury while in police custody.

"A handful of criminals and thugs who tore up the place," were the words Obama used to describe the perpetrators of the violent behavior.

Speaking at the White House on April 28, 2015, a day after the rioting erupted, he said there was "no excuse for the kind of violence that we saw yesterday."
Goodenough did seem to admit he was stretching the point, noting that, unlike Obama's very narrow use of the word, "Trump used the descriptor in reference to ISIS terrorists, Democratic lawmakers, MS-13 gang members, the surviving Boston marathon bomber, and protestors outside his campaign rallies."
Goodenough also undercut his suggestion that criticism of Trump's use of "thug" is politically motivated attack against him by noting that Obama and other Democratic figures faced criticism for using the word.
Posted by Terry K. at 1:46 PM EDT