CNS Is Now Promoting WND's Favorite Messianic Rabbi
Topic: CNSNews.com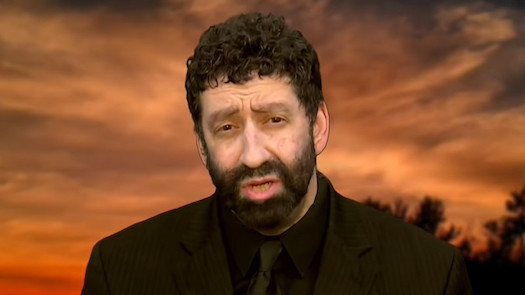 Jonathan Cahn was once among the favorite people at WorldNetDaily. The messianic rabbi came to prominence in 2013, when he gave a speech at a right-wing prayer breakfast the day President Obama was inaugurated for his second term, that was standard-issue right-wing, pro-evangelical Obama-bashing; WND lionized the speech, despite editor Joseph Farah being invited, then disinvited, then re-invited to the breakfast (he ultimately refused to show up at all) and despite WND originally not seeing the speech as important to the point that it took two weeks to do a "news" article about it. Farah in particular became enamored of Cahn and tried to ride his coattails, such as they were, by having WND make a biographical film about Cahn (since Cahn's books were being published by another company).
That fawning led to Farah and Cahn collaborating on a publicity stunt during a WND-led tour of Israel, where they knowingly violated the rules of the Muslim-controlled Temple Mount by talking about Christian history , thus getting their tour party kicked out. WND even touted Cahn's apparent endorsement of ISIS' destruction of the ancient Arch of Palmyra, as well as his portrayal of a reconstruction of the arch in New York City as a "sign of Baal" appearing in America (never mind that it was actually reconstructed as a repudiation of ISIS).
Cahn has also pushed the idea that President Trump's election was a result of divine intervention in the U.S. election process. That gives us a clue as to why we're writing about him now.
WND has effectively ceased to be a platform for Cahn, between the company's currently fragile existence and the fact that Farah, his biggest champion there, is currently out of commission recovering from a stroke. Enter CNSNews.com managing editor Michael W. Chapman, who has taken on the mantle of promoting Cahn's latest publicity stunt in a May 27 article:
The United States is in "deep, deep trouble" and must repent and return to God in humility and prayer, according to Pastor Jonathan Cahn, a Messianic Jew and best selling "End Times" author who is a co-chair of The Return, a global movement that will publicly appeal to God on Sept. 26 on the National Mall in Washington, D.C.

"We are in a critical time in America," wrote Cahn and co-chairman Kevin Jessip in a May 21 commentary for CBN News. "We have been warned. God in His mercy has afforded us a time of reprieve to turn and repent for our land to be spared from destruction. It's a Nineveh moment!"

"'The Return' is a chance for America, 40 days prior to our next election, to turn back to God, just like Nineveh," said Cahn and Jessip. "The Return is the gathering to spark a movement to gather, fast, pray and repent for our wickedness."
But as Right Wing Watch has pointed out, Sept. 26 is 38 days before the presidential election, not 40; however, 40 is a symbolic Biblical number. Cahn has also promoted the rally as being on the "400th anniversary of the sailing of the Mayflower," which isn't true either.
Then again, Chapman isn't one for fact-checking people he likes. Instead, he copied-and-pasted some of the bullet points from Cahn's "16 reasons why America is in 'deep, deep trouble,'" most of which coincide with right-wing talking points such as opposition to gay marriage, abortion and federal debt (though no mention of the fact that a good one-fifth of that debt was racked up under Trump).
And thus, the creeping WND-ization of CNS continues apace.
Posted by Terry K. at 12:05 AM EDT