MRC Writer Is Apparently Too Cowardly To Criticize Trump Where It Counts
Topic: Media Research Center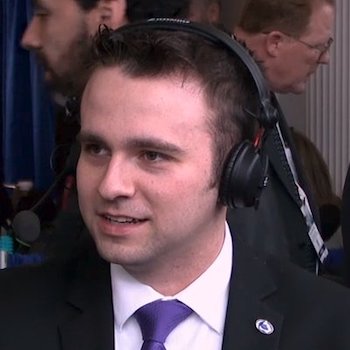 Media Research Center writer and NewsBusters managing editor Curtis Houck has been doing a lot of complaining about President Trump's tweets arguing that MSNBC host Joe Scarborough murdered an intern, Lori Klausutis, while serving as a Florida congressman -- on his Twitter account anyway, and mainly to insist that conservatives really do think he ought not be doing that.
In one post, Houck tried equivocation and whataboutism:
Multiple things can be true:

Trump should shut the hell up and stop tweeting about Joe & Loris Klausutis.

Joe and Mika should do the same and, along with the rest of the liberal media, stop saying Trump has committed murder with this pandemic.

Former is WORSE. Latter is dumb.
Then, replying to CNN anchor Jake Tapper's claim that Trump supporters "sit silently" while Trump falsely and maliciously maligns a critic and harms the family of the dead intern, Houck huffed: "This is pants-on-fire lie and I'm betting Jake knows this. I've seen people from the following sites call Trump out: Blaze, Daily Wire, RedState, Twitchy, NRO, Resurgent, Free Beacon, the Examiner, and a few of my NB colleagues."
Finally, Houck complained that the media newsletter put out by CNN's Brian Stelter and Oliver Darcy "didn't note the droves of conservative media peeps who've expressed disgust with Trump." He later cited a Washington Examiner editorial criticizing Trump as evidence of this.
But Houck is being very disingenuous. It may be true that Houck and his "NB colleagues" have criticized Trump's actions, but they didn't do so where it counted: in a NewsBusters post.
The only actual criticism at NewsBusters of Trump is a May 26 post by Houck in which he called Trump's tweets "vile" -- but this came in the 16th paragraph of post that was otherwise smearing CNN's Dana Bash as a "lackey" for doing an allegedly "softball" interview of Joe Biden. Not exactly a profile in courage here.
Meanwhile, the other NewsBusters posts that addressed Trump's tweets regarding Scarborough and Klausutis did the opposite of what Houck says he and his "NB colleagues" were doing -- they attacked anyone who criticized Trump.
In a May 21 post, Alexander Hall began by being mad that Scarborough's wife and "Morning Joe" co-host criticized Trump, blaring, "MSNBC host Mika Brzezinski has called for Twitter to deplatform a sitting president." Hall did not criticized Trump's tweets.
The next day, when Scarborough criticized Trump's tweets about him, Mark Finkelstein went full whataboutism:
Maybe Joe should consider how he's done on spreading false information. Like saying it was a "lie" that Hillary Clinton received dirt on Donald Trump from foreign sources....like the Russians cooking up a dossier with Christopher Steele. Or spreading the Trayvon Martin "armed with Skittles" defense, suggesting conservatives wanted him shot. Or wisecracking the Republicans wanted to include "chaining women to a radiator in the kitchen" in the 2012 platform.
Far from criticizing Trump, Finkelstein appears to be arguing that Scarborough deserves to be lied about; instead, he cheered that she got "torched by Ted Cruz."
And a May 27 post by Corinne Weaver repeating Trump's whining that Twitter fact-checked one of his tweets noted in passing in the ninth paragraph that "According to the Washington Examiner, Twitter apologized Tuesday to the family of a former Joe Scarborough intern Lori Klausutis because of a Trump tweet that speculated MSNBC host and onetime Republican congressman had something to do with her death in 2001." Of course, Trum[ didn't just "speculate"; he unambigously declared that Scarborough "got away with murder."
Houck is simply being a coward here. Not only won't he explain why he refuses to commit his thoughts about Trump and Scarborough to a prominent NewsBusters post (or, if he's prohibited by MRC management from criticizing Trump on its its websites, explain why he can't), the website he manages has attacked Trump's victims.
If it seems like we're having a hard time understanding why Houck would be so utterly disingenuous, this is why.
Posted by Terry K. at 8:01 PM EDT
Updated: Thursday, May 28, 2020 9:07 PM EDT