MRC Demands That Trump Briefings Be Aired In Full, Without Comment Or Correction
Topic: Media Research Center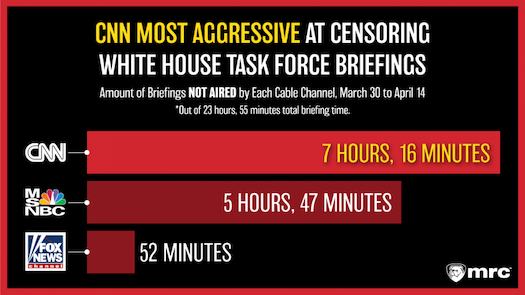 The Media Research Center has long complained that certain TV channels won't air President Trump's coronavirus briefings in full or that it will cut away to offer commentary. Kathleen Krumhansl summed up this attitude in an April 6 post declaring that it would be "immensely more important to the viewers of Univision and Telemundo, for example, to have unfiltered access to the daily Coronavirus briefings from the White House" than for anyone on those channels to comment on them.
Brent Baker followed up on April 16 with one of those "studies" designed more to push an agenda than to serve up anything useful:
CNN and MSNBC on many days repeatedly cut in and out of the daily White House briefings on the coronavirus pandemic, with CNN the most eager to replace remarks from President Trump, Vice President Pence or any number of medical and logistical experts with derisive commentary by its anchors and reporters. MSNBC carried a little more than CNN, but its anchors also weren't hesitant to chime in with their condemnations of Trump's remarks.

A Media Research Center study found that CNN has carried just 69 percent of the briefings' runtime of those conducted March 30 through April 14. That's 999 of 1,435 minutes, leaving seven hours and 16 minutes unaired. MSNBC has aired live 1,088 minutes, or 76 percent, not running five hours and forty-seven minutes. Thus, CNN and MSNBC viewers missed more than 13 hours of the briefings. (FNC cut out a few minutes early on two days, but otherwise has carried all the briefings in full, airing 1,383 minutes, about 96 percent of the total duration.)

For six of the 14 briefings over the time period, CNN ignored Trump's opening remarks, joining the briefing only after he had finished. Wolf Blitzer announced on April 6: "Once the experts start speaking, once the questions and answers begin, we'll go back to that briefing."

A week later, CNN's John King offered this justification for ceasing the live coverage: "The briefing was breathtaking from beginning to when we dropped out and at times it bordered on dangerous." The next day, an angry Jim Acosta declared "these briefings altogether are coming across like something out of 'Baghdad Bob,'" with Trump "sounding very 'Baghdad Bob'-like."
That was accompanied by a chart that described anyone not airing the briefings in their entirety as "censoring" them.
As far as Baker is concerned, only an "angry" person points out that Trump's performance at these briefings has been Baghdad Bob-like, filled with boasting, attacks and misinformation.But don't tak our word for it; the Washington Post did what Baker wouldn't do and actually analyze the content of those briefings. It found that among the 13 hours Trump spent in those hearings:
He spent two hours spent on attacks and 45 minutes praising himself and his administration, but just 4½ minutes expressing condolences for coronavirus victims.
He has attacked someone in 113 out of 346 questions he has answered — or a third of his responses. He has offered false or misleading information in nearly 25 percent of his remarks. And he has played videos praising himself and his administration's efforts three times.
He has mentioned the nation's testing capacity in 14 percent of his comments, talked about the country's ventilator supply in 12 percent and waxed on about his imposition of travel bans — particularly from China — in 9 percent.
87 of his comments or answers — a full 47 minutes — included factually inaccurate comments.
Needless to say, the MRC had a problem with this -- the research thing, that is, not Trump's behavior. Tim Graham devoted his April 29 column to attacking the Post, bizarrely claiming that it "augmented its agression" by, um, doing research of the kind the MRC refuses to do. He then played a lot of whataboutism to defend Trump:
This would sound bizarre if it were any other president. Is it odd that a president speaks 60 percent of the time at his press conferences — especially since reporters want to press him the hardest? Would it be unusual for a president to defend himself, or odd that a president would criticize the Other Party?

No one could claim former President Barack Obama didn't boast about himself and his team. Critics used to count how many times he said the word "I" in his speeches. No one was shocked when Obama used press conferences to attack Republicans or Fox News.

What's strange about this project is it doesn't acknowledge how the press drives the briefings. The Post expressed alarm about those "Trump briefings full of attacks" but doesn't acknowledge that a large chunk of those attacks were Trump returning fire from the press!

[...]

When The Post says "politics dominates" these events, it doesn't admit that politics dominates the questions from "objective" reporters. It complains that these briefings are substitutes for Trump's stadium rallies — as if he gets accused of killing thousands of coronavirus victims at his rallies. The paper's aggression is intensified by its partisan desire to deny Trump the advantage of this TV time.

[...]

These newspapers really believe the president should never speak positively about his presidency. It's not the right occasion. Can anyone imagine these papers and their chosen experts telling former President Jimmy Carter he couldn't defend himself regarding the Iran hostage crisis during the 1980 presidential campaign? They hate Trump so much, they just want him to stop defending himself and lose miserably in November. Fighting back is impolite.
That's just another way of stating the MRC's highly partisan anti-media agenda: Trump is always right; reporters are always wrong. Indeed, Graham never mentioned the Post's finding of the large number of factually false statements Trump made.
Oh, and Graham failed to disclose that among the "critics" who counted the number of times Obama referred to himself in the first person in a speech is the MRC's "news" division, CNSNews.com.
Posted by Terry K. at 3:37 PM EDT
Updated: Sunday, May 3, 2020 1:51 PM EDT