Who Else Are The MRC's Enemies For Questioning Trump?
Topic: Media Research Center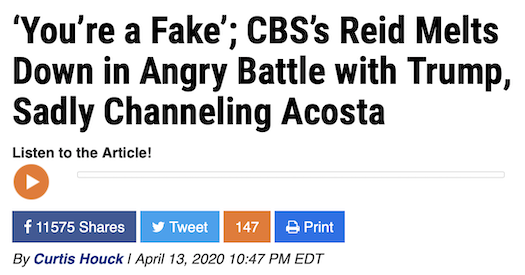 We've been documenting how the Trump lackeys at the Media Research Center have been parroting President Trump in making members of the media their enemies for committing the offense of asking questions of Trump during his coronvirus public briefings. Let's touch on a few others who got brief attacks.
ABC's Jonathan Karl got targeted a couple times. Kyle Drennen complained on March 19 that "Karl attempted to scold President Trump for having "lashed out" at Democrats who were politicizing coronavirus. Trump shut down the line of questioning by pointing out he has to "respond" since liberal politicians "have the media on their side." Drennen added: "Missing from Karl's question was any acknowledgment of how Democrats have worked tonpoliticize the pandemic response."
On April 22, Curtis Houck wrote that "Karl found himself in a shouting match with President Trump about whether the media would ever praise him on testing and their coverage on the increased production of ventilators," then cheered Trump's attack on him while defending Trtump's "imperfect" analogy:
Trump drew Karl's ire with a litany of "that's not true" and when he insisted in a hypothetical that even if every American were to be tested ten times for the virus, the press would ridicule him for not giving Americans an 11th test.

While perhaps imperfect, the President's analogy works out when considering how, even when he does something the press might have lobbied for, they insist it wasn't enough.

Trump's response? He jabbed Karl for being "one of the leaders of the bad reporting."
Needless to say, Houck made no effort to fact-check Trump's claim.
CBS correspondent Paula Reid was another target. Houck highlighted Reid "getting in a shouting match with Trump that seemed to imply she was blaming him for the deaths of over 23,000 Americans. An otherwise respectable reporter, Reid instead decided to provide for the viewing public her best impression of reporters with names like Alcindor, Alexander, Acosta, Karem, and Ryan." Houck went on to rant:
The President was fiery, but hadn't resorted to calling her "fake" or any other name. That would change as he punched back:"Look, look. You know you're a fake. You know that. Your whole network, the way you covered is fake and most of you --- not all of you but the people are wise to you. That's why you have a lower --- a lower approval rating than you ever have before times probably three."
Continuing to show that any liberal media claims that they only want to inform the public and move the country forward, Reid continued to berate Trump about the death toll and unemployment numbers as if to --- again --- suggest this were of his making because of some inaction that the liberal media themselves had pushed for.
Houck postively gushed over Trump attacking another reporter the MRC has historically hated, Brian Karem:
Having seen Yamiche Alcindor, Jim Acosta, Peter Alexander, and even Paula Reid make scenes during White House Coronavirus Task Force briefings, CNN political analyst and Playboy writer Brian Karem reasserted himself Tuesday over the press corps and sought to remind Americans of his nonsense. Naturally, it ended with President Trump calling him a "loudmouth" and "showboat" and threatening to end the briefing early.

Before even asking a question, Karem sunk his case with an antagonistic and unnecessary lead off with "600,000 cases, 25,000 deaths" in the U.S. as of Tuesday and lamenting that "I know you want to blame the [World Health Organization]" for the pandemic.

Only then did he claim without evidence that he's "spoken with hundreds of people across the country in the last few weeks who say they still can't get tested and that they aren't social distancing" when Trump cut him off.

Trump stated that "the governors are supposed to do the testing," but Karem kept shouting about how that wasn't his question.

The President tried to move onto NBC's Hans Nichols, but Karem wasn't done.

So much for collegiality, Brian[.]

[...]

Seeing as how Karem couldn't ask a question without extraneous information and was interrupting a colleague, the President had plenty of leeway to shut Karem down and call out his nonsense, leaving Karem with a look of pure sadness[.]
The usual MRC hallmarks are there: failure to fact-check anyone, especially Trump; the mind-reading of the purported state of mind of the journalist asking the question; the assumption that Trump is always right and the correspondents are always wrong.
Touting how Trump insulted journalists is not "media research"; it's stenography.
Posted by Terry K. at 11:33 PM EDT
Updated: Monday, April 27, 2020 4:31 PM EDT