Allen West Has Thoughts About Coronavirus
Topic: CNSNews.com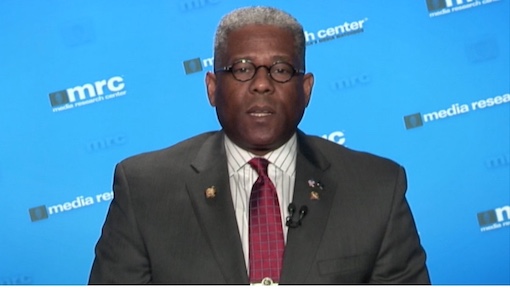 CNSNews.com columnist and Media Research Center "senior fellow" Allen West has been having some thoughts and ruminations (as stated in the headline of his March 23 column) about the coronavirus pandemic. Amazingly, many of them involve using the pandemic to advance his usual right-wing talking points.
In that column, West mused about the usual conservative platitudes of courage over fear, ultimately concluding with a talking point: "But most importantly, we need to take individual responsibility for our healthcare. If anything, COVID-19 has taught us that state- or government-controlled healthcare is not a viable solution. It is lethargic and irresponsive to the ever-changing dynamic of medicine and healthcare."
West spent his March 30 column what is "essential" under lockdown orders ,complaining that gun stores were not seen as essential while Planned Parenthood, "an organization founded by a white supremacist and racist," is arguing to keep abortion clinics open. West loves that particular lie about Margaret Sanger.
On April 6, West invoked Easter to find a silver lining -- you know, that thing that his employer says we're not supposed to find -- in the pandemic: "We are facing a deadly pestilence, COVID-19, but as the aforementioned verses from Romans state, this current suffering can produce something lasting. ... We must come together and seek out God's blessings for our overcoming -- and we have been through rough times previously." He added: "Holy Week is all about the culmination of the four Rs – Redemption, Reconciliation, Restoration, and Resurrection. Those four Rs are a roadmap for our Recovery, from COVID-19."
In his April 13 column, West engaged in the usual right-wing complaint about erosion of rights under the pandemic, falsely framing it as a power grab instead of the health protection measures they are:
It is disturbing to think that anyone would seek to profit politically and ideologically from a tragedy, a crisis, this pandemic. What are we to discern when examining these quotes for analysis and assessment? Yes, we all want to be safe and healthy. We all want to do that which is best and good for the public, the American people. But when do we stop and realize that with each crisis we face, there are those who find opportunity in eroding our individual constitutional rights?
West also echoed the CNS bad take on restricting religious services to discourage the spread of coronavirus as a violation of religious rights: "Our very first right in our Bill of Rights in the United States Constitution is Freedom of Religion, and the free exercise thereof. But I guess not in the new normal of Gov. Cuomo."
West served up more self-proclaimed "observations" in his April 20 column, cheering the "pushback against these draconian, ideological-driven decisions, mandates, edicts, and orders emanating from elected officials," likening it to the start of the Revolutionary War at Lexington and Concord and rehashing some of his earlier talking points:
How troubling that here we are, 245 years later, and some elected officials are mandating that gun stores and gun ranges are non-essential. Yet, these same progressive socialist elected officials will tell us that businesses that sell marijuana are essential. They have told us that required surgeries are now "elective," such as hip replacements, and in some cases, cancer removal procedures. But as Gov. Gretchen Whitmer of Michigan asserted, murdering a preborn baby is an essential medical procedure.

We are being told our churches are non-essential and that we must surrender our right to peaceably assemble. These are individual rights and cornerstones enshrined in our First Amendment.

[...]

Is there any doubt as to why we have Americans starting to take to the streets? Can you blame Americans for a rising angst and anger when they see chummy media interviews by the Speaker of the House of Representatives showing off her collection of gourmet ice cream, while they are fretting over feeding their families? Talk about a Marie Antoinette moment.
If all West can do is play his greatest hits (which really aren't so great), he's not being terribly insightful as a columnist and "senior fellow."
Posted by Terry K. at 11:41 AM EDT