An MRC Tweet Asks A Very Dumb Question
Topic: Media Research Center
Brent Bozell's penchant for really dumb tweets seems to have trickled down into his Media Research Center at large. On Jan. 15, the MRC's NewsBusters account tweeted: "If 'impeachment lasts forever,' why did it oh so very rarely come up when the Clintons were running for president in 2016?" with an animated GIF of Bill and Hillary Clinton?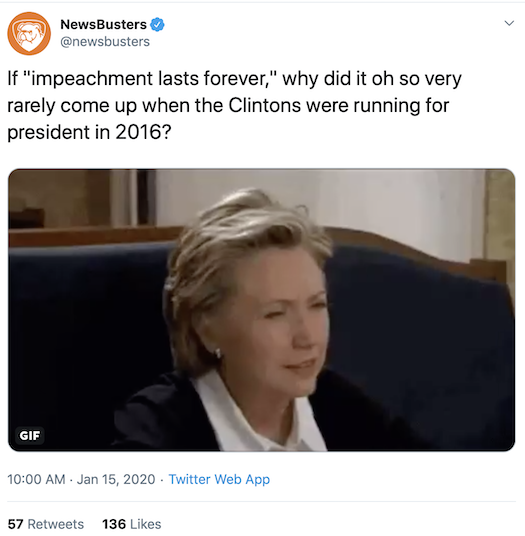 As numerous commenters pointed out, Hillary Clinton was running for president, not Bill. Hillary wasn't impeached, and despite what the MRC seems to thin, Bill's impeachment did not magically transfer to her.
Further, the MRC's argument that impeachment should last forever collides with a narrative pushed by another MRC division: A Jan. 22 CNSNews.com article favorably quoted Alan Dershowitz declaring that if the Senate votes to acquit President Trump, his impeachment will "disappear."
Surprisingly, this tweet is still live as of this writing -- the MRC is apparently not embarassed by the post's utter failure of logic to delete it.
Posted by Terry K. at 10:22 AM EST