CNS' Coverage of DOJ IG Report Filled With Bias, Ignored Key Finding
Topic: CNSNews.com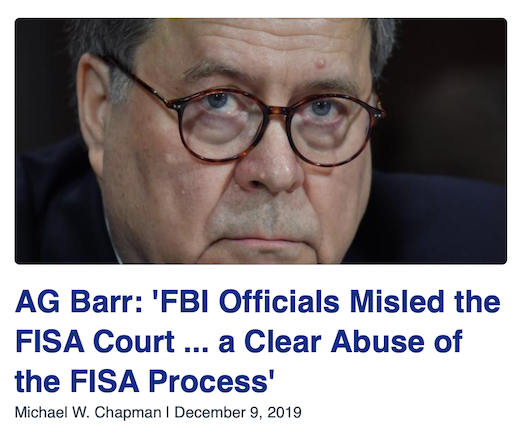 CNSNews.com's coverage of the release of ther report by the Justice Department's Inspector General Michael Horowitz into the origins of the investigation into Russian contacts with the Donald Trump presidential campaign focused almost entirely on charry-picked findings that fit the narrative of the pro-Trump, pro-Republican CNS.
CNS tried to pre-spin the report in a Dec. 3 article by Susan Jones in which Republican Sen. Lindsey Graham accused the "liberal media" of, yes, trying to pre-spin the report by reporting a leaked finding that the report concluded that the FBI had enough information to justify launching the investigation. Graham asserted that the media was "trying overtime to spin this thing, to diminish its effect, to downplay it," and that the real issue was the Steele dossier and that the FBI "pulled a fast one on the FISA court, quite frankly, misled and defrauded the FISA court. I think that's what you're going to find."
Having staked this out as a talking point, CNS followed that to the letter with its stories on the report's official release and the reaction to it:
The key finding that no political bias was found on the FBI's part in opening the investigation did not warrant a headline in any CNS article, though it was later mentioned in a couple of them.
CNS served up the following articles on Horowitz's Senate testimony about the report:
None of these articles featured questions or comments from a Democratic congress, and none noted that Horowitz found no political bias on the FBI's part in opening the investigation. It did, however, find the time and space to complain that CNN didn't cover Graham's opening statement, with Melanie Arter citing the Trump campaign and other right-wingers -- including disgraced sexual harasser Bill O'Reilly, whom Arter described on as a "former Fox News host" -- insisting that this was an example of "liberal bias" in the media.
Posted by Terry K. at 12:18 AM EST
Updated: Sunday, December 29, 2019 10:56 PM EST